What Is Rihanna's "Love on the Brain" About? Lyrics to Her Sultry, Old-School Love Ballad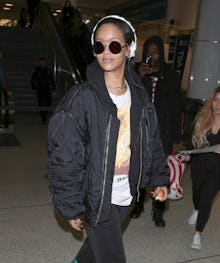 JMA/STAR MAX/IPx/AP
Rihanna takes us to places in her world we've never been — both vocally and lyrically — in her sultry love song "Love on the Brain" off her long-awaited album Anti, released Wednesday to utter praise from fans. Rumors suggest the song may be about her abusive-yet-addictive relationship with Chris Brown. More importantly, it exposes a soulful, dynamic and lesser-heard side of Rihanna's voice that evokes the pain of tumultuous love in a way Rihanna never has before.  
"You can almost picture her leaning on a dusty bar, nursing a drink and looking for someone to tell her story to," the Guardian's Michael Cragg wrote of Rihanna's bluesy, old-school love ballad, adding that her voice sounds similar to British soul singer Duffy's in the song, and even Erykah Badu at times. 
Read more:
"Love on the Brain" lyrics: Between the soulful, bluesy melody and vocals and lyrics such as, "I'm tired of being played like a violin/ What do I gotta do to get in your motherfuckin' heart?/ Baby like ah, woo, ah," "Love on the Brain" is a true love ballad for the ages. Rihanna wears her heart right on her sleeve and takes no prisoners in expressing the pain of a metaphorically and physically damaging-yet-undying love. She co-wrote the track with J Angel and Fred Ball, according to Genius. 
The song's full lyrics are available on Genius, but here's the gist:
It beats me black and blue, but it fucks me so good
Fans on Twitter said they appreciated the song's old-school vibe as well. One compared it to Etta James. 
Another praised the throwback vibe and Rihanna's killer vocals.
Aside from fans' tendency to hold onto celebrity relationships after the celebrities themselves have let go, speculation that the song is about Brown could stem from lyrics alluding to a physically abusive on-and-off relationship, like the one she experienced with Brown. Additionally, as Genius pointed out, the song's title seems to mock Brown's 2007 "Heart Ain't a Brain," a song he released while the two were dating.
Yet in a 2015 interview with Vanity Fair for its November cover story, Rihanna seemed like she had overcome the darkness of that relationship. "I don't hate him," she told Vanity Fair. "I will care about him until the day I die. We're not friends, but it's not like we're enemies. We don't have much of a relationship now."