Meet Lego's First Wheelchair-Using Minifigure and His Super Sweet Beanie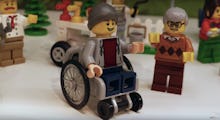 The first wheelchair-using Lego minifigure was spotted this week at the London and Nuremberg toy fairs. The figure came complete with a helper dog, beanie and hoodie.
Instead of a splashy public announcement by the company, the inclusion of a wheelchair-using Lego piece was first reported Wednesday by Promobricks.
"I think it is an important piece of representation," Andrew Morrison-Gurza, a Toronto-based disability awareness consultant, told Mic. "When do we see the disabled people in pop culture like that?"
The Lego piece came after a long campaign by #ToysLikeMe, which advocates for person's with disabilities to have greater visibility in toys. A Change.org petition calling for the Lego piece has amassed more than 20,000 signatures. (And the inclusiveness trend doesn't just extend to people with disabilities. On Thursday, Mattel debuted its line of curvy, tall and petite dolls.)
"LEGO we salute you! You've just made a 150 million children, their mums, dad, nans, granddads, teachers, carers, pet dogs and hamsters very, VERY, VERY happy!" campaign founder Rebecca Atkinson wrote after news of the wheelchair-using Lego piece emerged. "To all our backers, supporters and Lego, from the bottom of our playful hearts, THANK YOU!"
The decision represents a swift turnaround for Lego, which, the Guardian reports, initially resisted calls to include those pieces. The new figure will be part of the Lego City set "Fun at the Park."
There's no word yet on whether future Lego sets will incorporate wheelchair-accessible bits and pieces.