The Real Reasons Young Women Are Not Supporting Hillary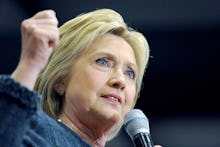 Most of Gloria Steinem's Friday night appearance on Real Time With Bill Maher yielded that valuable wisdom the feminist legend has become known for. She said women become more radical as they age, there are more young feminists than during her day and made the case for why young women are "mad as hell" today. 
But then the conversation turned to the election: Bill Maher suggested that young women don't like presidential hopeful Hillary Clinton and a clearly uncomfortable Steinem faltered.
"When you're young, you're thinking, 'Where are the boys? The boys are with Bernie?'" Steinem said.
News outlets freaked out and Steinem apologized for the comment in a Facebook post published Sunday. But other public figures have been asked the same question, and musings about young women and their support for Hillary have been published time and time again.
Yes, Clinton's campaign is historic. She is the first woman to win the Iowa caucuses and arguably the closest to becoming the nation's first woman president. Her groundbreaking candidacy, in addition to the gross underrepresentation of women in politics, suggests that women of all ages should be lining up in support of her path to the Oval Office. 
But that assumption has proven incorrect. The Clinton campaign has struggled with consistently retaining young women and young feminists. In early 2015, Clinton was the top-rated candidate among women, according to a Gallup poll, and nearly every female Democratic senator publicly backed the candidate. But the tide has since turned: According to a January USA Today/Rock the Vote poll, Sen. Bernie Sanders has a 19-point lead over Clinton among Democratic and independent women between the ages of 18 to 34. Women 29 and younger voted for Sanders by a margin of about 6-to-1 at the Iowa caucuses on Feb. 1, according to the New York Times.
So, instead of asking why "young women" do or don't support Clinton, we should be asking why we assume young women are a homogenous voter bloc.
Young women vote on the issues. It turns out that Clinton's gender is not enough to sway millennial women's support. The reason why should prove unsurprising to anyone who has actually talked to young women: Like most other Americans, young women vote based on the issues, not a candidate's aesthetic or biological similarity. 
"I would love to see a female president," 22-year-old Marissa* told Mic. "But I can't vote for her simply based on her gender," she added, noting that she does not plan to vote for Clinton because she doesn't "agree with her on many of her platforms."
Similarly, while 20-year-old Josy* isn't sure who she's voting for yet, her "gender alone does not sway my vote in any direction; it's her policies around gender issues that count," she told Mic.
Shirley Kailas, 27, supports Clinton — but her reasoning had nothing to do with the candidate's gender. Her support is not out of "blind allegiance," but rather because Sanders' "approach to political change ultimately does not jive with the way our founders built our government to function."
A comprehensive National Journal feature demonstrates that these sentiments are widespread. Only a quarter of the 47 women interviewed for the piece, the majority of whom were in their early to mid-20s, were "enthusiastic or emphatic in their support," and similarly noted that Clinton's gender was not a significant factor in their stance. 
Alexandra Svokos, 23, supported Clinton's 2008 presidential campaign "be­cause she was a wo­man, rather than know­ing much about what she stood for." In 2015, she came to realize that a politician's gender does not equate to their policies and that Clinton is "not likely to push for the kind of change I'd like to see," she told the National Journal.
For many young women, voting for one woman isn't enough progress. 
"Young women have been taught their whole lives that women can be anything they want to be," liberal pundit Krystal Ball recently told Glamour. "So even though we have never had a woman president, it doesn't feel like a particularly exciting accomplishment to get one woman into one position of power. Young women who [support Sanders] can consider all their options without having any gender traitor guilt."
Looking at the issues beyond gender: The assumption that American women will vote based on identity politics alone is not only proving to be an inaccurate generalization, but also ignores the factors that do influence who they support. Clinton has faced an outrageous share of unwarranted, blatantly sexist attacks over the course of her political career, but she has also faced professional criticism distinct from her gender — and young women have paid attention.
Specifically, the politician has been accused of dishonesty years before the recent, already infamous Benghazi scandal. As Kathleen Parker recently wrote in the Washington Post, New York Times columnist William Safire accused Clinton of being a "congenital liar" in 1996, and others have echoed this sentiment. 
Polls suggest that these claims of dishonesty may be affecting public opinion. One NBC News/Wall Street Journal poll, for example, showed that 53% of voters rate Clinton poorly on honesty, while only 27% of voters gave the candidate a good rating, the Washington Free Beacon reported in November. As one millennial voter told Clinton at a DNC forum in January, according to a Townhall report, "I've heard from quite a few people my age that they think you're dishonest."
Many young voters are not only questioning what Clinton is withholding from them but are also concerned by what she is projecting — especially in terms of the most marginalized Americans. 
Clinton has struggled to engage millennial women of color. "On measures important for those who aren't just capital-w-for-white 'Women' ... she has gone out of her way — including by joining GOP ranks — to implement violent policies against non-white women and their communities at home and abroad," Mahroh Jahangiri wrote on Feministing. 
As Jahangiri noted, she isn't the first to make this point: Kevin Young and Diana C. Sierra Becerra also outlined Clinton's less-than-feminist decisions and policies in Jacobin Magazine. Clinton served on the board of Wal-Mart, a corporation that has exploited low-wage workers, has been criticized for using her position as secretary of state to be a "business lobbyist," and supporter of the U.S.'s invasion into Iran, among other concerning actions, the authors argued in March.
Perhaps more visibly, Clinton's public attempts to reach young voters of color have especially fallen flat. In December, the candidate's campaign published an article entitled "7 Ways Hillary Clinton Is Just Like Your Abuela," which compared the white candidate to Latina matriarchs. Latino voters forcefully pushed back, calling the attempt — which included references to Spanish phrases like "le faltan el respeto" and the support of Latino celebrities like Marc Anthony — "hispandering." The hashtag #NotMyAbuela, which further refuted the list, quickly gained traction as well. 
"'Le faltan el respeto' means something very different for Clinton, as a privileged white woman in America, than it does for my grandmother as a woman of color," Roberta Nin Feliz, 18, told Mic. Chloe Hallinan, 20, noted that the post seemed "contrived and culturally insensitive." 
Clinton's attempts to reach black voters have also been widely criticized. The candidate was particularly skewered for tweeting about Kwanzaa and changing her Twitter logo to an image honoring the holiday for a few hours. Twitter users launched the hashtag #NewHillaryLogo in response to what they, much like those who participated in #NotMyAbuela, saw as inauthentic pandering.
For millennials, authenticity is everything. While a candidate's social media or general online presence may seem like a superficial factor in the scheme of their campaign, the opposite is increasingly proving to be true — especially among millennials. 
Given that "fewer people watch the evening news or the local news [and] more people are spending time on their mobile devices and online getting their information without having it filtered through a political correspondent or news anchor or newspaper editorial," a candidate's social media platform is, in fact, very influential, Democratic digital communications consultant Greg Greene told Mic. 
Social media allows candidates "to speak for themselves in their own tone of voice and reach people directly" and "establish a human connection that doesn't readily exist in other channels," he said.
A perception of pandering or being tone deaf is no small disadvantage for Clinton, especially considering that other candidates are building significant followings based on what's a perceived abundance of authenticity. Sanders, for example, has been particularly lauded among millennials for being deeply authentic.
It's worth noting that Clinton's ability to match Sanders' realness is based on a sexist double standard. As Catherine Rampell recently noted in the Washington Post, Sanders' sincerity, his "unkempt hair, his ill-fitting suits, his unpolished Brooklyn accent, his propensity to yell and wave his hands maniacally," represents "a form of authenticity that is off-limits to any female politician, not just one with Clinton's baggage." To be taken seriously, Rampell added, female politicians "have to be carefully coifed and scripted at all times, because they have to hew as closely as possible to the bounds of propriety available to both their sex and their occupation."
But Clinton's tone is shaping young voters' views regardless. Whereas many politicians "look so stoic when they speak about issues minorities feel passionate about, it's hard to believe what they say,"  Nin Feliz said. She supports Sanders, she added, because when he "speaks about topics affecting minorities, he's passionate and it shows that he cares."
"For a generation as disillusioned by all the fakeness and artifice out there, we are just looking for somebody who tells it like it is," one Reddit user echoed in 2015 in a post upvoted thousands of time. "Bernie's the fucking man."
To be sure, while there are many reasons young women don't support Clinton, plenty of young women do vocally support the candidate. It's possible that the very fact that young women are engaging with candidates' platforms and the issues, rather than aesthetics or political showmanship is evidence of feminist progress. Steinem herself acknowledged to Maher and again in her apology, young women's engagement in this election and willingness to vocally and passionately acknowledge the candidate they support — no matter who that candidate is — is incredibly exciting.
As she put it, "young women are active, mad as hell about what's happening to them, graduating in debt, but averaging a million dollars less over their lifetimes to pay it back. Whether they gravitate to Bernie or Hillary, young women are activists and feminists in greater numbers than ever before."
* Last name withheld to allow subjects to speak freely