Neil deGrasse Tyson Totally Shut Down BoB on 'The Nightly Show'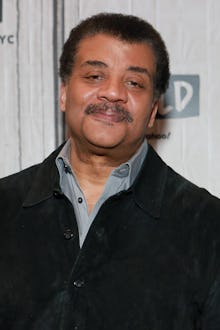 Jason Mendez/Getty Images Entertainment/Getty Images
Astrophysicist Neil deGrasse Tyson continued his escalating back-and-forth with rapper B.o.B about whether or not the Earth is flat when he made a surprise appearance on The Nightly Show With Larry Wilmore to drop some knowledge about planetary curvature.
Showing up eating a sandwich, Tyson laid down the truth about the shape of the globe. "Listen up B.o.B, once and for all. ... Small sections of large, curved surfaces will always look flat to little creatures that crawl upon it," Tyson said. 
Read more: 
The argument between Tyson and B.o.B began Monday when the rapper tweeted out a string of claims that the Earth must be flat because, among other reasons, skyscrapers can be seen from a distance and "only NASA" has photos "of the curve."
Tyson responded to the Tweets with some sensible explanations, which prompted B.o.B to release a (since-deleted) diss track directed toward Tyson, with lyrics such as "Neil Tyson need to loosen up his vest/ They're probably writing that man one hell of a check."
So Tyson upped the ante by crashing The Nightly Show on Wednesday night to settle the beef "once and for all." He criticized B.o.B for using his influence to promote a misconception and a distrust of science that is "harmful to the health, the wealth and the security of our citizenry."
Then Tyson really laid it down for B.o.B, quoting Isaac Newton, adding, "That's right, B.o.B, when you stand on the shoulders of those who came before, you might just see far enough to realize the Earth isn't fucking flat," he said. Then he dropped the mic like a boss.
Hopefully Tyson's smackdown settles this feud for good. After all, as Tyson has said many times before, "The good thing about science is it's true whether or not you believe in it."
The full clip of Tyson's Nightly Show appearance is available below and at the Comedy Central website.