21 Amazing Photos From Serena Williams' Grand Slam Wins So Far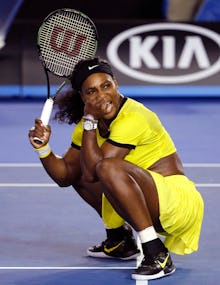 Serena Williams — the Maya Angelou-quoting, crip-walking, split-slayer of a superhero — is one step closer to tying Steffi Graf's Grand Slam championship record. After beating Agniezska Radwanska Wednesday in the semifinals at the Australian Open, she gets her chance at her 22nd Grand Slam win at Saturday's finals match against Angelique Kerber.
It's been a long and triumphant road to this point. So let's take a trip back to 1999 when Williams first stepped on the national championship scene as another powerful tennis player from Compton, California. Here are some great photos — and a gif! — from Queen Serena's reign.
1999 U.S. Open: Williams wins her first Grand Slam championship at 17 years old. 
2002 French Open: This was the first of five straight wins against her sister Venus.
2002 Wimbledon
2002 U.S. Open
2003 Australian Open: Williams completes the first "Serena Slam," winning four straight Grand Slam titles in a row.
2003 Wimbledon: This championship was Williams' last of the year. She underwent knee surgery, and her sister, Yetunde Price, was killed in September.
2005 Australian Open
2007 Australian Open
2008 U.S. Open: Williams wins her third U.S. Open title.
2009 Australian Open
2009 Wimbledon: She beats her sister, after losing to Venus at the championship the year before.
2010 Australian Open: Serena ties Billie Jean King's Grand Slam record with her 12th championship win.
2010 Wimbledon
2012 Wimbledon: At the Olympics, Williams pulls out her show-stopping moves and crip-walks after her win.
2012 U.S. Open
2013 French Open: It had been 11 years since Williams took home the win at the French Open.
2013 U.S. Open: With this win, Williams became the first woman to surpass $50 million for her tennis earnings.
2014 U.S. Open: Williams beats her friend, Caroline Wozniacki.
2015 Australian Open: Williams surpasses Chris Evert and Martina Navratilova's records by winning her 19th Grand Slam championship. Slay queen!
2015 French Open: Williams hits a split — one of several in her career — in a win over Lucie Šafá?ová. 
2015 Wimbledon: Williams wins the second Serena Slam of her career.