The Similarities Between Rihanna's "Close to You" and Her 2012 "Stay" Are Hard to Miss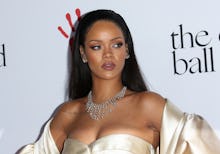 Paul Archuleta/Getty Images
Every once in a while, admist club anthems and banging beats, Rihanna will drop a slow and soulful ballad. And that's exactly what she did on her latest and eighth studio album Anti, which dropped on Tidal on Wednesday. The song is called "Close To You," and it's been declared an emotional doozy. 
In the minimalist song, which is the last one of the album, Rihanna's vocals are met with a only piano as she sings about the uneven and unrequited heartbreak of losing a lover. Listeners immediately raved about the ballad, closely comparing it her last album Unapologetic's equally heart-wrenching song "Stay." Both songs are simple, vulnerable and about romances gone to dust. 
Read more:
Lyrics: In "Close To You," Rihanna says she won't let go of her lover, who is distancing themselves from her, according to the lyrics from Genius. 
Nothing but a tear, that's all for breakfast/ Watching you pretend you're unaffected/ You're pulling our connections, expecting me to let you go/ But I won't 
"Stay" runs a similar course, as its lyrics are also about the difficult and powerless yearning for a lover to stay, according to Genius. Both emphasize the agony of a love that's not working out. 
Not really sure how to feel about it/ Something in the way you move/ Makes me feel like I can't live without you/ And it takes me all the way/ I want you to stay
The Chris Brown connection: As a duet with Mikky Ekko, "Stay" was regarded as an honest and painful narrative about a hurt relationship, according to Refinery29. Particularly, it was heard as a personal reflection of her publicized abusive relationship with fellow musician Chris Brown. Their relationship and the subsequent abuse took place around 2009, peaking when a picture of Rihanna's bruised face surfaced online, the Washington Post reported. In 2012, she told Oprah Winfrey that "it was a weird, confusing space to be in, because as angry as I was... I felt he made that mistake because he needed help," according to the Washington Post. That thought is very much alive in "Stay." 
Some fans think that "Close To You" is also about Rihanna's relationship with Brown. The two had gotten back together after the publicized domestic abuse incident, according to Rolling Stone in 2013.  
If it truly is or isn't, Teen Vogue still called "Close To You" the "closest comparison" to "Stay." USA Today made a similar comparison, saying, "Rih's vocal runs never get too self-indulgent, resulting in an understated and genuinely moving coda." Fans totally agreed, calling it a "masterpiece."