Who Is Bibi Bourelly? Songwriter Behind Rihanna's "Higher" Wrote the Track in 20 Minutes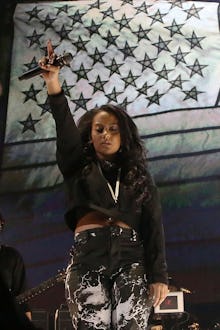 Taylor Hill/Getty Images
Rihanna is rightfully receiving abundant praise for her long-awaited album Anti, released to Tidal Wednesday after months of hype, but the dynamic songs were penned by a list of clearly talented songwriters that also deserve a shoutout. "Higher," arguably one of the best and most popular songs on the album, was actually written by blossoming 21-year-old artist Bibi Bourelly, who said she wrote it in 20 minutes. 
"The 20 minutes it took me to write 'Higher' is actually what changed my life," the young singer-songwriter, born and raised in Berlin, told Noisey U.K. in April of the second song she wrote for Rihanna. "Because, even though we wrote 'Bitch Better Have My Money' first, she heard that one first." (Yes, Bourelly wrote Ri's hit #BBHMM not thinking she'd ever hear it).
Read more:
In "Higher," Bourelly wasted no time with intricate poetry to express love and lust. "This whiskey got me feelin' pretty," Bourelly wrote. "So pardon if I'm impolite/ I just really need your ass with me/ I'm sorry 'bout the other night/ And I know I could be more creative/ And come up with poetic lines/ But I'm turnt up off sizz' and 'I love you'/ Is the only thing that's in my mind."
The lyrics may seem aggressive for a young woman only a short time into her twenties, but Bourelly's experience with music and culture extends far beyond most of her peers. Born and raised in Berlin, before moving to LA to pursue a career in the music industry, Bourelly told Noisey U.K. that the city inspired her music. "I grew up running around the subways and streets of that city," she said, "tagging, listening to cool music, sitting on the rooftops of abandoned buildings and not going home enough."
It also helped having a father who was a professional musician, Bourelly said. "I grew up with bass players from Senegal and Ghana in my kitchen talking about conspiracy theories," she told Noisey U.K. in April. "I got to tour with my dad at an early age too. So it's in my genes. It's what I do. I didn't wake up one morning and decide to. I always have. I've written songs for 16 years, and I'm 20 [now 21]. It's my way of communicating."
Yet Bourelly said she doesn't want to be pigeonholed as a songwriter. She said she wants to produce her own music with her own voice on the track — and judging from covers and performances she's posted to her Instagram, the girl can sing.
In October Bourelly released her first single, "Ego," a heavy jam about a "19-year-old with a big ego," as she croons in the first verse. "Bourelly has a voice that's more than lived in, scratchy with a lifetime's worth of unfiltered cigarettes," Pitchfork's Matthew Schnipper wrote in his review. "She uses it at a medium pace here, taking on the barely sung cadence of a dirty blues singer."
Bourelly told Noisey U.K. she left Berlin after almost failing high school and moved to LA on a whim. "I said fuck school, and I packed my bags in Berlin and moved to LA," she said. "I said I was gonna do it, I was gonna do music, and I did it. A year later, I have a Rihanna single."
Bourelly is one of several writers and artists who have influenced Rihanna's powerhouse album, including Tame Impala and Dido. The album, Rihanna's first in almost four years, was received with critical acclamation and widespread fan celebration. The artist soaked up the love and tweeted Thursday that it made her "the happiest girl in the world." It's available to download on Tidal for free, no subscription required.
Correction: Jan. 28, 2016