Another Refugee Boat Capsizes off the Coast of Greece, Killing 18 Children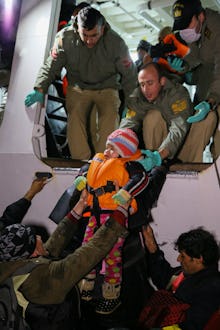 Yet another refugee boat has capsized in the Aegean Sea off the coast of Greece, leaving at least 25 people dead. 
According to Greece's Hellenic Coast Guard, 18 of those who drowned were children, but the number of casualties may rise, with an official telling Al Jazeera, "The investigations are still ongoing because we do not know the exact number of people on the boat."
Authorities were alerted of the crisis after one survivor landed on the shores of the Greek island of Samos on Wednesday night and was able to solicit help.
Frontex, the European Union border agency, assisted the coast guard in the rescue mission, employing boats and helicopters, according to Al Jazeera
Greece has shouldered much of the burden of how to manage the the surge of people fleeing war-torn regions of the Middle East for Europe. Since January 2015, almost one million refugees and migrants have arrived in Greece, according to the United Nations High Commissioner for Refugees. And, in 2016, almost half of those have been Syrians, fleeing a years-long civil war. 
Greek Islanders as a group were recently named 2016 Nobel Peace Prize contenders for their efforts. But the country's handling of the problem has angered the European Union, which said Greece has "seriously neglected" its obligation to protect the European border and threatened to remove the country from the E.U.'s passport-free zone.