Is "James Joint" About Weed or Dangerous Love? The Answer Is Both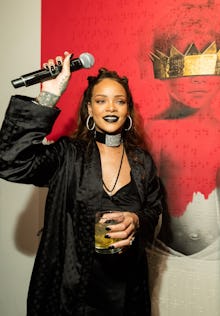 Christopher Polk/Getty Images
After the much-anticipated release of Anti, Rihanna's eighth studio album, on Wednesday night, the music world is buzzing about RiRi's latest. In the year leading up to Anti's arrival, Rihanna said in interviews that her newest album would have a different sound, telling MTV that she wanted to make songs that were "timeless" and "felt real, that felt soulful, that felt forever."
So what to make of "James Joint," the second, and shortest track on Anti? The muted, slow moving interlude opens with Rihanna crooning "I'd rather be smoking weed." So is this a new stoner anthem? Not exactly.
Read more:
The song pivots quickly from marijuana to lost love, as Rihanna sings, "Don't say that you miss me/ Just come get me," not an especially radical sentiment for a break-up song. 
But in the hook and the second verse, the lyrics paint a darker picture. "Don't know why, just know I want you," could read as a flippant declaration of residual love post break-up, but it may also describe a dangerously addictive kind of relationship (which comes back around to the drug metaphor). And "We're too busy kissing/ Just making scenes/ Here come the police," evokes tumult and violence — perhaps an allusion to Rihanna's ex-boyfriend, singer Chris Brown, who pleaded guilty to assaulting her in 2009.
But "James Joint" barely gives the listener time to process before it ends with a fade-out. The full lyrics of "James Joint" are available from Genius.