In Praise of Artists Taking Their Time With Music, Inspired by Rihanna's 'Anti'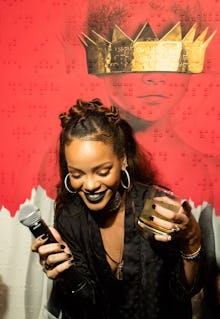 The world has changed significantly in the year since Rihanna first began to tease the album eventually to be known Anti. The United States legalized same-sex marriage. ISIS grew into a new and terrifying threat. David Bowie died. 
Even before "FourFive Seconds" dropped in January 2015, suggesting an album rollout was imminent, there had been over two years of silence. 
To put it bluntly, Rihanna took her goddamn time crafting Anti. It frustrated her Navy to no end, which seemed on the brink of mutiny several times last year. Yet the wait was worth it. Anti arrived late Wednesday, catching fans completely off guard. What a moment of reckoning it was. On the album's 13 tracks — which are still free to download via Tidal's homepage — Rihanna sounds like a true pop mad scientist, a Jekyll to the Hyde of her usual hit-making self. The songs are endlessly refreshing.
With them, she joined a host of recent innovators who have taken the time to step back from the industry to find something even sharper than the cutting edge. Along with Justin Bieber, Beyoncé, D'Angelo and Kendrick Lamar, Rihanna realized the beauty that can be created if an artist doesn't attempt to work within the usual industry timeline.
The vision of Rihanna Anti offers is completely out of step with her previous offerings — but in a way, it may be the truest glimpse of the Barbadian pop star we have. Rihanna has always posed as a rebel, a ballsy, liberated woman who sneers, smokes and gives the most pristine middle fingers the media has ever received. But she's really been playing the pop game. 
There are no clear radio winners on Anti, it's true. What we have instead is arguably far more impressive: a labyrinthine journey through just about era and genre of music, with several glimpses at future fusions we don't really have names for ('80s trap, spaghetti Western drill). It feels very literally "timeless," as Rihanna described the album for MTV back in March.
"I wanted songs that I could perform in 15 years, I wanted an album I could perform in 15 years," Rihanna said at the time. Anti has a better shot at being that than anything Rihanna has released on the tight album-a-year schedule she's followed most of her 10 year career.
This way of making music actually fits better with modern methods of musical consumption. We are living in the age of the skip, with listeners equally likely to finish a song as they are to shuffle ahead to greener pastures. The sheer tonnage of music listeners can access is vast enough to keep their shuffle rotating for hours on end.
The best way to combat this attention deficiency is to make something truly memorable — something that can't be figured out in a single sitting. That takes time to craft. 
Kendrick Lamar's To Pimp a Butterfly, which he recorded, re-recorded and embellished over a three year period, is close kin to Rihanna's Anti. Both are deeply, confrontational personal albums. They're not for radio. They exist to break their genre's molds.
Adele's splendid comeback, while was far from being groundbreaking musically, was unprecedented in the attention to detail she gave it. She scrapped nearly an entire album before settling on 25's closely curated ballads.
"Some songs are not fucking good enough," she told Rolling Stone in November. "And I think that's where a lot of people go wrong, thinking that people will buy any old shit from you."
Anti follows this logic to a perfect T. Rihanna rejected three of her pre-released singles for the album's final cut — "Bitch Better Have My Money," "FourFiveSeconds" and "American Oxygen." The album is arguably far a more cohesive and exhilarating experience for it. 
Every song challenged the listener to think outside of the box they've subconsciously been building around Rihanna's eighth album over the past four years.
The kinds of creative realizations it took to realize something as forward thinking as Anti cannot happen overnight. While it will always be a risk for an artist to take duck out of the limelight to craft an opus, lately it seems the rewards far outweigh the potential fall out. 
There are a ton of names already lining up to do the same this year: Kanye West, Frank Ocean, Missy Elliott and Lauryn Hill. Every artist that decides to put a knife in pop's two-year album cycle and search for something more helps make pop music's future just a little richer.