7 Startling Statistics That Put the Gender Gap in Politics in Perspective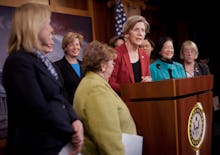 Uncredited/AP
Last weekend's snowstorm made everyone's Tuesday morning commute a little bit more difficult. In fact, it resulted in only the women employees showing up on the Senate floor. Equally epic is the support garnered by presidential hopeful and former Secretary of State Hillary Clinton. Clinton has some solid endorsements: Planned Parenthood (their first endorsement ever) and also America's largest LGBT rights group called the Human Rights Campaign. It seems that strides are being made, right?
Sort of. A look at the hard evidence shows us that women still have a long way to go in leveling the political field — and it's been a slow progressive crawl to begin with. Although women make up a little over 50% of the United States' population, in 1999 they peaked at about 27.6% in statewide elective offices (like governor), according to research by Rutgers University. In 2015, that measurement is at 24.7%, and the stats for females in Congress or the Senate are even lower. The rates are even worse for women of color. 
Part of this is due to society being conditioned to believe that women's votes or political ambitions won't actually make tangible political changes, according to the Wall Street Journal. "But I want them to know every legislative body impacts your life, so you need to make sure the interests that are important to you are heard," vice president of communications for the National Women's Political Caucus Deidre Malone said, according to Refinery29.
Read more:
To help paint the picture of just how big the gender gap in politics is, below are a few statistics: 
1. Women are extremely outnumbered in Congress. 
In 2015, women held 104 of the 535 seats of Congress, which is about 19.4%. The number is barely higher for the House of Representatives, where women held 84, or 20%, of the 435 seats, Rutgers University found. Out of 100 people in the Senate, only 20 are women. 
2. Since 1917, only 299 women have served as a U.S. representative or senator, according to the Pew Research Center. 
To put this in perspective, there's a total of 435 representatives right now. 
3. In the history of the United States, there have been only four female Supreme Court justices, according to the Huffington Post. 
There have been 112 justices in general as of 2010, according to the Supreme Court's website. 
4. The 2014 midterm election was a landmark in female political history; for the first time, more than 100 women finally served in Congress, the Pew Research Center found. 
5. The problem spans worldwide too. 
In 2014, only five countries out of the G20 had at least a third of women in senior leadership roles in the public sector, according to research from EY's Worldwide Index of Women as Public Sector Leaders.
6. Only 10 presidents have ever appointed a women to their cabinet, the first being Frances Perkins in 1933 by Franklin D. Roosevelt, according to Rutgers University. 
7. And most relevant, only 14 women in history have ever run for the highest political office possible in the United States, according to Rutgers University.