Lead Poisoning in Other Parts of Michigan Is Even Worse Than It Is in Flint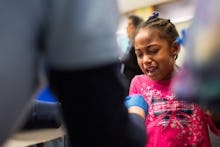 The water crisis in Flint has whipped America into a state of righteous outrage, but dear God, look at the rest of Michigan: In at least 30 zip codes in more than 13 cities across the state, elevated levels of lead have been detected in a shocking percentage of local children — sometimes at almost five times the rate of kids in Flint, according to the Center for Michigan, a think-tank.
The numbers add a grim layer to an already-devastating story. While Flint struggles to recover, as many as 20% of kids under 6 years old tested in parts of Detroit — and between 7% and 12% in parts of Saginaw, Ludington, Lansing, Highland Park, Grand Rapids, Hamtramck and a handful of other cities in the state — had elevated levels of lead in their blood as recently as 2013, according to the Michigan Department of Health and Human Services. 
The percentage of children in Flint who had comparable levels peaked at 6.4% at the end of 2015, Mother Jones reports.
Lead poisoning is irreversible and causes a host of developmental problems in kids. These include poor motor skills, learning delays, difficulty articulating speech and problems controlling behavior. While the extreme government neglect and deceit in Flint made what's happening there its own unique horror story — residents have been exposed to toxic drinking water for more than a year — statistics from across the state reveal lead poisoning is hardly an isolated issue. 
The reasons for exposure in Michigan differ from place to place. Whereas in Flint the lead comes from old and corroding water pipes, the culprit in most other areas in the state is much more common: paint. In 1977, the U.S. Consumer Product Safety Commission outlawed the use of lead-based paint on toys, furniture and other products, including house paint. But many homes built before then are still coated with the stuff. And as time passes and the paint chips and peels, the dust it kicks up is inhaled by the people around it, poisoning them.
The result is a crisis the state of Michigan has spent millions of dollars trying to solve. Believe it or not, their methods — including varying approaches to lead abatement — have led to a significant drop in lead levels in children's blood across the state over the last few years, according to the Center of Michigan.
But things are still bad. The cities where lead poisoning remains the most common vary in terms of their demographic makeup — some, like Detroit and Highland Park, are overwhelmingly black; others, like Lansing and Grand Rapids, are majority white — but most, unsurprisingly, have poverty rates well above the state and national averages. 
As Gov. Rick Snyder scrambles to clean up his mess, it's worth remembering the problem is much bigger than Flint. And the children of Michigan — and in other parts of the country — remain among its biggest casualties.
h/t Detroit News