Fans Want Rihanna's Lovelorn Jam "Kiss It Better" to Be the Next 'Anti' Single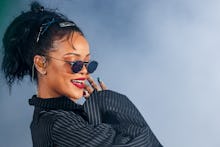 Rich Fury/AP
Rihanna made fans wait more than a year to hear the full version of "Kiss it Better" after posting a snippet of the song on Instagram in 2014 — but because it's so damn good, nobody seems to mind. 
The full version of "Kiss it Better" was released along with Ri's entire eighth album Anti on Wednesday after months of built-up anticipation. The song begs the question many have asked of an ex-lover trying to win them back: "What are you willing to do?/ Oh, tell me what you're willing to do?/ Kiss it, kiss it better, baby."
"A definite future live favorite," the Guardian's Michael Cragg wrote of "Kiss it Better" in his Anti review. The New York Times' Jon Caramanica described the song as "An ostentatious sex jam that pulses with 1980s synth-rock sleaze," in his review. 
Read more:
The track was co-written by Rihanna with musician Natalia Kills (who changed her name to Teddy Sinclair), the song's producer Glass John, Kanye West's songwriter Jeff Bhasker and Kenan Williams, who co-penned a few other Anti tracks. 
John, who's also worked with Pusha T and Chris Brown, stirred up drama in December ahead of the album's release when he tweeted that producer and Rihanna's rumored boyfriend Travis Scott was the reason Anti wasn't finished yet and, in a now-deleted tweet, threatened "'Kiss It Better' isn't going to come out" unless Scott apologized for an unspecified wrongdoing.
Whether or not Scott apologized, "Kiss it Better" was released and fans are feeling it hard for its flow, NSFW vibe and killer guitar riffs. Many even suggested it should be album's the next single after "Work."