Ashley Graham Wants You to Know That Curvy Girls Work Out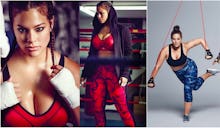 Flip through any Lululemon catalogue and here is what you'll see: Skinny white women bending, stretching or running. But if you've ever exercised outside before, or been to a gym, that's not exactly what you see — not at all.
Yes, curvy women go to the gym. And whether Lululemon realizes it now or not, curvy girls also deserve the quality workout wear that everyone else can buy too. So, why isn't it happening? 
Model and curvy woman Ashley Graham has a theory. At an event on Thursday at Lord & Taylor to celebrate her new campaign with denim brand NYDJ, Graham was adamant that clothing companies and retailers need to get over a major misconception.
"As far as dressing curvy girls in activewear, I mean, maybe the assumption was that we don't work out but, honey, I work out," she told Mic. "I wouldn't be this cute if I didn't work out." 
It's not the first time we've heard that point made. Graham's voice joins a chorus of other women who have recently become outspoken about that seemingly obvious fact: that even if a woman isn't a size 2, she could be killing it at the gym every other day.
Take Orange is The New Black actress Danielle Brooks. Over the summer, Brooks posted an Instagram photo of herself at the gym without a shirt on, a personal first that she memorialized with a photo. "I've always wanted to do this but have felt shameful and have told myself 'until my body is perfect I'm forbidden,'" she wrote in the caption. "Today my inner being told me to turn up the notch on my self-love."
The image went viral shortly thereafter, and Brooks penned an article for Glamour magazine titled "How I Learned To Love My Body." Also, since the original image, she's posted countless other gym selfies, with captions like "To my Curvaceous sisters, let's get it in!! Show 'em what we working with!!" 
She's kept on spreading that message. On the Late Show with Stephen Colbert this week, Colbert asked her about the image and the body-positive movement she's helped create.
"It was something that I had never done, take off my shirt at a gym," Brooks told Colbert. "So I did it and I did not realize that I was giving permission to thousands of plus-sized, big women to go to the gym and take their shirts off, because it became a thing!"
Hopefully, the message will sink in. In July, plus-size model Erika Schenk graced the cover of Women's Running. Plus-size yoga star Jessamyn Stanley has been hugely outspoken lately about the discrimination she's faced in the yoga industry. And Graham herself has recently been named the face of Nola by Addition Elle, a new plus-size sportswear line that goes up to a 4XL — something the industry doesn't have enough of. As activewear (and "athleisure") has grown more popular all-around, only slowly are we seeing more options that include curvier women, like Nola and the Kickstarter-funded Superfit Hero.
So next time you see a curvy woman and don't think that she can't totally kick your ass, think again.