Rihanna "Close To You" Lyrics: Is New 'Anti' Song About Chris Brown?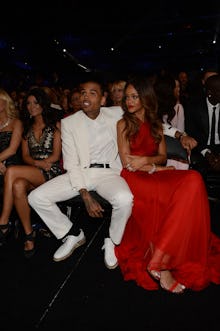 Larry Busacca/Getty Images
Rihanna's eighth studio album, Anti, dropped on Tidal on Wednesday, much to the delight of eager fans. The album took four years to complete, and the Barbadian superstar used the time to explore a variety of genres and influences, such as those by psych rock band Tame Impala, British soft pop singer Dido and club anthem-maker DJ Mustard. But it's the piano ballad of the album, called "Close To You," that has listeners stopping in their tracks. 
Called the "the most affecting torch song of her career" by the New York Times, the minimalist song consists of Rihanna's voice and a piano, the song describes heartbreak through an unrequited love, in which she still cares about her distancing lover. The sad ballad is oddly similar to her 2012 track "Stay" — which personally recounts her past abusive relationship with rapper Chris Brown. Listeners think it could be the emotional sequel to "Stay," perhaps about the true end of their relationship.
It wouldn't be unlikely for Rihanna to open up wounds about Brown again. After all, back in March Rihanna emphasized that she wanted the new album to focus on things that "felt real, that felt soulful, that felt forever," according to Billboard.
Read more:
In the song, Rihanna sings about not letting someone go, despite the lover's reluctance. "No you don't need my protection/ But I'm in love, can't blame me for checking/ I look in your direction, hoping that the message goes/ Somewhere close to you/ Close to you/ Like so close if they heard you, you wouldn't find out/Just say now, I'm coming right now, to be close to you," she sings. The full lyrics are available on Genius.
Brown and Rihanna first met each other in 2005, and publicly came out as a couple in 2008, according to Billboard. After the 2009 Grammys, images surfaced of Rihanna's bruised face due to an assault by Brown in his car, according to BBC. Brown was sentenced to five years of probation. 
Soon after, the two got back together, and Rihanna admitted it was because she thought she could change him. "I was very protective of him," she told Vanity Fair in October. "I felt that people didn't understand him. Even after ... But you know, you realize after a while that in that situation you're the enemy." She added that she will always care for him, but that they don't have much of a relationship now. 
In 2012, Rihanna told Oprah Winfrey that the time was a "weird, confusing space to be in," according to the Washington Post. Around the same time, her 2012 album Unapologetic was released. In "Stay," Rihanna revealed her vulnerability, singing, "Not really sure how to feel about it/ Something in the way you move/ Makes me feel like I can't live without you." Many took it to be about her relationship with Brown, Refinery29 reported. 
Although Rihanna has yet to say who the love song is for, fans have their ideas.