A 16-Year-Old Teen Suffered Second Degree Burns When an E-Cigarette Exploded in His Face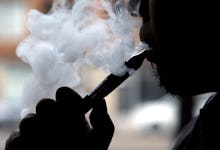 E-cigarettes are all the rage these days, as the grim fates of chain smokers make traditional drags increasingly unpopular. But as researchers continue to look into whether the e-cigarette presents the same risks as its predecessor, it would seem there's another horrifying hazard e-cigs pose that cigarettes never did: explosions.
Such was the fate of 16-year-old Ty Greer, a teen in Alberta, Canada, who suffered second degree burns and broken teeth after his e-cigarette spontaneously exploded just inches from his mouth while he was using it in his car. 
"It lit my kid's face on fire, busted two teeth out," Perry Greer, Ty's father, told the Canadian Press. "It burned the back of his throat, burned his tongue very badly. If he wasn't wearing glasses, he possibly could have lost his eyes. ... He wanted to die. That is how much pain he was in."
The defective vape was a Wotofo Phantom, which is produced in China. Online reviews of the product on the marketplace Eciggity were mostly positive with no indication of such defects.
In a statement to Mic by the Smoke-Free Alternatives Trade Association, the industry shot back at the implication that e-cigarettes are dangerous.
"Electronic cigarettes and vapor products are electronic devices and do not combust. They should be thought the same as other rechargeable electrical equipment such as laptops and cell phones, in terms of being battery powered," the statement read. "We cannot speak to user error or on behalf of a manufacturer for their device. If there is truly an issue with a specific device, similar to a laptop or cell phone manufacturer, inquiries should be directed toward the individual company." 
Yet Ty Greer is not the first to fall victim to such a disaster. In November, a Colorado Springs man suffered a broken neck when an e-cigarette exploded in his face. And earlier this month, an Orange County, California, teen also suffered burns after an e-cigarette exploded in his pocket. In October 2014, the Federal Emergency Management Agency officially acknowledged the phenomenon, publishing a study investigating the matter.
"Media reports of 25 separate incidents in the U.S. dating from 2009 to the present were found during an internet search," FEMA wrote in the report, which indicated that the explosions were often linked to the device's lithium battery overheating. "The event occurs suddenly and is accompanied by a loud noise, a flash of light, smoke, flames and often vigorous ejection of the battery and other parts." 
With Ty Greer now the latest victim, many in Canada are calling for bans on sales to minors and more critically still, additional government regulations to prevent defective products from entering the marketplace. "We absolutely need product standards. For instance, they shouldn't explode in your mouth," Lee Hagen, from Action on Smoking and Health, told the Canadian Press.