How to Add GIFs to Your Tinder Messages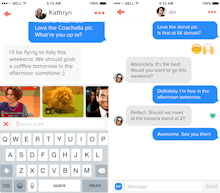 Tinder
GIFs have infiltrated almost every social media platform except where we could really use them: on dating apps that often leave us at a loss for words. ("Should I say hey? hi? sup? wassup?" Please don't say wassup ever again.) Tinder upped its game and made it easier for us to flirt Wednesday when it announced a new feature that allows users to send each other GIFs. 
Tinder collaborated with Giphy to integrate the popular GIF host's library on the app, according to Tinder's update announcement. A promo for the new feature shows a guy on Tinder struggling to initiate the conversation with a match, typing and backspacing several times before sending a cute GIF of a cat suggestively raising his eyebrows. 
Read more:
How to send GIFs on Tinder: To start chatting with Tinder matches in fluent GIF, users just need to make sure they have the latest version of Tinder. Then, the GIF option should appear in the bottom-left corner of any chat window. Simply click on the "GIF" option, scroll through the library and tap your GIF of choice. 
Tinder's latest update also allows users to like messages on Tinder (although it's probably not productive to "like" instead of respond during a one-on-one dialogue) as well as upload profile pictures straight from their camera roll.