What is "Woo" About? Lyrics and Meaning Behind New Song on Rihanna's 'Anti'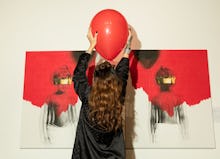 Christopher Polk/Getty Images
Pop star Rihanna's eighth studio album, Anti, finally dropped this week after months and months of hype, and RiRi fans are already devouring her latest release. In an interview with MTV from before Anti dropped, Rihanna said that for her new album, she wanted to make songs that were "timeless" and "felt real, that felt soulful, that felt forever." 
"Woo," the sixth track off the new album, is, like other songs on Anti, a breakup song addressed to a non-specific "you," representing some unseen ex-lover. The first verse opens with, "I bet she could never make you cry / Cause the scars on your heart are still mine," a jab at a former flame.
Read more:
But as "Woo" progresses, the tone vacillates between vindictive and mournful, and the first verse ends with "send for me, send for me," repeated again and again, like what an ex-lover would say to someone they wanted back.
The chorus of "woo, woo, yeah" repeated is sung by Travis Scott, whom Rihanna is rumored to be dating, and the presence of a second vocalist contributes to the sense that the song is about a romantic relationship.
The second verse delves deeper into the sense of longing for a former love with lyrics like "I've been thinking bout ya late night" and "Yeah I been feeling lonely too." In the song's finale "I don't even really care about you" and "I don't even really love you," repeat again and again, representing the mindset of someone who is, unconvincingly, trying to talk themselves out of feelings for an ex-lover.
Full lyrics to "Woo" are available from Genius.