What's Rihanna Saying in "Needed Me"? Lyrics and Meaning of 'Anti' Track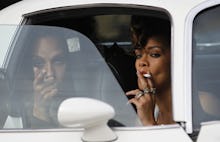 Peter Morrison/AP
The Rihanna of 2016 may not be the same as the 24-year-old who may or may not have rolled a blunt off the head of a fellow Coachella-goer, brushing it off with a shrug of a tweet saying she must have "[run] out of fucks to give." Yet that's the Rihanna we hear on "Needed Me," the seventh track on her newly released eighth studio album Anti, in which she sets straight her sadly disillusioned suitor, some sad man who's apparently confused sex for love. 
"I was good on my own, that's the way it was, that's the way it was," she sings. "You was good on the low for a faded fuck, on some faded love / Shit, what the fuck you complaining for? / Feeling jaded, huh? / Used to trip off that shit I was kickin' to you / Had some fun on the run though I'll give it to you."
Read more:
Seems to track with Rihanna's image as fantastically blunt, hard-edged IDGAF queen. But is that the real Ri? Back in November, the Barbadian artist covered Vanity Fair, speaking with journalist Lisa Robinson about the gulf between her public persona and the person she actually is: a woman who's whip smart and sensitive and deeply sensible. 
In the VF interview, Rihanna told Robinson that her relationship history — the abuse by ex-boyfriend Chris Brown which became more or less a matter of public record — and the media's tendency to jump on the smallest glimmer of hook-up potential have hardened her to romance. 
"I've had to be so conscious about people — what they say and why people want to be with me, why people want to sleep with me," she said. "It makes me very guarded and protective. I learned the hard way." 
Maybe the aversion to men who come on too strong, too quickly; her instinctive skepticism of her partners' motives explains her "Needed Me" quip, "Tryna fix your inner issues with a savage / Didn't they tell you I was a savage / Fuck your white horse and your carriage." 
But thinking again about the woman who told VF that she prefers to spend her [minimal] downtime watching TV, who's astounded by the rumors that circulate around her lifestyle, one wonders if the fuck-off vibes reverberating through "Needed Me" aren't just a result of the feet-thick walls the pop star has thrown up to keep her personal life personal. As she told Robinson, she's not interested in one-night stands.
"I am going to do what makes me feel happy, what I feel like doing," she said. "But that would be empty for me; that to me is a hollow move. I would wake up the next day feeling like shit."
Which isn't at all what "Needed Me" suggests. It is in fact the opposite: In-song Rihanna isn't entertaining the possibility of anything but random sex, but real Rihanna isn't — or, when she was interviewed, wasn't — wasting her time on anything but the real deal with a man who won't screw her over. One of the main reasons she's stayed single is because the good ones have been hard to find. 
"They won't be a gentleman because that makes them appear soft," she said of modern men in her VF interview. "That's what we're dealing with now, a hundred percent, and girls are settling for that, but I won't. I will wait forever if I have to ... but that's OK. You have to be screwed over enough times to know, but now I'm hoping for more than these guys can actually give."
So perhaps Rihanna is aiming "Needed Me" at an army of to-us-anonymous fuck boys who want but don't deserve her. Or, she's keeping up appearances. Either way, she's good on her own.
The full lyrics to "Needed Me" are available on Genius.