Lyrics and Meaning for Rihanna's "Desperado" Off New Album 'Anti'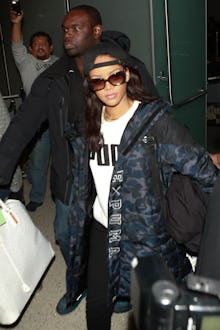 GVK/Bauer-Griffin/Getty Images
Rihanna's new, long-awaited album Anti is stacked with love ballads and heavy beats and the track "Desperado," about loving someone who is "on the run", falls into both categories. The song's rebellious vibe and lyrics have already made it an album favorite.
"Desperado/Sitting in a old Monte Carlo," Rihanna sings in the first verse, over heavy drums. "A man whose heart is hollow/Uh huh, take it easy/I'm not tryna go against you/Actually, I'm going with you."
Read more:
The word "desperado" is a Spanish term that's likely rooted in the English word "desperate," according to Genius, but is often used in reference to an outlaw or criminal. It seems Rihanna is telling this unidentified "desperado" she's in love with, or at least attracted to, that she understands and is willing to run away with them.  
Several writers and producers co-penned the song including singer-songwriter-producer James Faunterloy, who helped write Drake's "Girls Love Beyoncé," which has a melody akin to "Desperado," and Kanye West's hit song "Clique."
The song's full lyrics are available on Genius, but here's a glimpse of the first verse and pre-chorus:
[Verse 1] 
Anti, Rih's first album since 2012's Unapologetic, was met with utter praise from fans and mixed reviews from critics when it dropped Wednesday night. Some critics said the album is "confused" and "a chaotic and scattershot album," but fans are rejoicing about the Rihanna album they've "been waiting for," one that defied everything one would expect from the dynamic music mogul.