Fox News GOP Debate Livestream, Preview and Start Time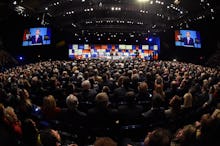 Rainier Ehrhardt/AP
The seventh Republican presidential debate will play out on Thursday evening at the Iowa Events Center in Des Moines, Iowa, on Fox News Channel. Fox will livestream both the undercard debate, which begins at 7 p.m. Eastern, and the main stage showdown, which will start at 9 p.m. Eastern, for free on their website. 
In the lead up to the second GOP debate of 2016, the event's most-discussed snag was the expressed absence of party frontrunner Donald Trump. On Tuesday, Trump announced he wouldn't be participating in the debate due to ongoing tensions with one of the night's moderators: Fox's Megyn Kelly.
Whether or not Trump sticks to his guns remains to be seen. Candidates that will be seen on stage on Thursday, however, include Texas Sen. Ted Cruz, Florida Sen. Marco Rubio, former Florida Gov. Jeb Bush, retired neurosurgeon Dr. Ben Carson, New Jersey Gov. Chris Christie, Ohio Gov. John Kasich and Kentucky Sen. Rand Paul. The candidates participating in the undercard debate are former Hewlett-Packard CEO Carly Fiorina, Arkansas Gov. Mike Huckabee, former Pennsylvania Sen. Rick Santorum and former Virginia Gov. Jim Gilmore.
Joining Kelly as moderators during Thursday debate are Fox News Sunday anchor Chris Wallace and Special Report host Bret Baier.
Read more:
Trump's feud with Kelly is not breaking news. During the first Fox News debate in August, Kelly didn't pull punches when questioning the candidate on the rhetoric he's used to describe women, terms like "fat pigs," "dogs," "slobs" and "disgusting animals." Since then, Trump has been vocal about his distaste for the journalist and network television host. More than once, Trump has used Twitter to voice his negative opinion of Kelly.
The debate falls at a critical moment for the GOP candidates to win Republican primary voters' favor, particularly with a caucus in Iowa on deck for Monday.
"Donald Trump is refusing to debate seven of his fellow presidential candidates on stage [Thursday] night, which is near unprecedented," a Fox News spokesperson told Mic in an emailed statement. "We're not sure how Iowans are going to feel about him walking away from them at the last minute, but it should be clear to the American public by now that this is rooted in one thing – Megyn Kelly, whom he has viciously attacked since August and has now spent four days demanding be removed from the debate stage."
Rather than face off which his challengers, Trump's campaign is organizing a fundraising event in Iowa to support veterans and wounded warriors, according to a statement. 
And in the hours before the debate, it seemed fairly certain that Trump was sticking to his convictions and, the statement released by his campaign was very "Trump" about the decision.
"Mr. Trump knows a bad deal when he sees one," reads the statement. "Fox News is making tens of millions of dollars on debates, and setting ratings records (the highest in history), where as in previous years they were low-rated afterthoughts."
"Unlike the very stupid, highly incompetent people running our country into the ground, Mr. Trump knows when to walk away. Roger Ailes and Fox News think they can toy with him, but Mr. Trump doesn't play games."