Sonic Boom? Earthquake? Something Just Rocked the Tri-State Area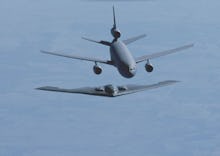 An alleged sonic boom caused tremors across parts of New Jersey, New York and Connecticut, leaving many convinced there was an earthquake. Initial reports explained the event as a military aircraft breaking the sound barrier, resulting in the sonic boom.
However, according to the Facebook page for a collection of area military bases, Joint Base McGuire-Dix-Lakehurst, they conducted no such exercises that would result in a sonic boom.
"We do not have any aircraft capable of producing a sonic boom," the post reads.
But despite the military's announcement, the United States Geological Survey did not register any earthquakes and attributed the incident to a sonic boom. Witnesses near the coast reported spotting two large aircraft. 
The tremors reportedly began around Cape May County, New Jersey, and proceeded to follow the coastline, heading north, according to NBC New York. 
The disturbance occurred around 1:30 p.m. Eastern, and was followed by slew of 911 calls. Police attempted to reassure residents via social media. 
Rumors on social media swirled, alleging the New Jersey State Police was aware of the event and warned personnel beforehand. But the speculation was quashed by a state police spokesperson, who told Gizmodo, "That didn't come from us."