Rihanna's "Yeah, I Said It" Lyrics: Meaning of Sexy 'Anti' Song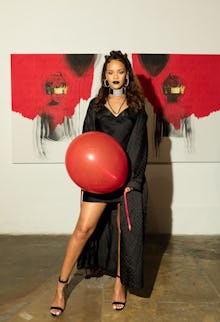 Christopher Polk/Getty Images
There are power ballads like "Love on the Brain" and alternative trap hits including "Consideration" featuring SZA, but Rihanna's "Yeah, I Said It" certainly takes the cake as the sexiest song off Anti. The sexually-charged lyrics focus on a romance without the strings, with Rihanna being sure to get descriptive in her raunchiest lyrics on the album.
The 27-year-old Barbadian recording artist dropped Anti for free on Tidal Wednesday night. Since then, over one million listeners have downloaded the entire album, and nearly 14 million streams occurred in its first 13 hours on the music streaming service.
Clearly, Rihanna quenched her "Navy's" thirst for new music with "Yeah, I Said It."
Below are the lyrics, provided by Genius:
"I want you to homicide it / Going slow and I want you to pop it / And I think I kinda like ya / Up against the wall, we don't need a title / Yeah, I said it, yeah I said it, baby / Yeah, I said it, fuck a title."
The song continues to heat up as Rihanna sings about convincing her man to go to unexplored parts during their romp in the sheets. It's a more intense version of the notorious bad girl, who can be known to shake things up like this in at least a few songs off her albums. 
Read more:
"Skin," one of Rihanna's lesser known tracks off the 2010 album Loud is nearly just as raunchy, as Rihanna demands she wants to see nothing else but her partner's flesh.
On Anti, no song comes even nearly as close as sexual as "Yeah, I Said It," though some parts of "Work" do come close, specifically when Rihanna croons,
"Nobody touch me in the righteous, nobody text me in a crisis."
Check out Rihanna's full album Anti, and listen to "Yeah, I Said It," exclusively on Tidal.