Is "Higher" Based on a Drunk Dial? Lyrics and Meaning Behind Rihanna's 'Anti' Track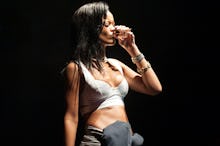 Arthur Mola/AP
Rihanna seems like a supremely pleasant drunk, this based solely on a listen to "Higher," a track off of her new album, Anti. Whoever's on the receiving end of this chemically charged mini-ballad is a lucky man. In it, RiRi gets real and a little bit sappy while spilling her feelings to a special someone.
"This whiskey got me feelin' pretty," she sings, "so pardon me if I'm impolite / I just really need your ass with me / I'm sorry 'bout the other night."
Read more: 
A lover's quarrel, perhaps? Is that what's driven Queen Rih to get "turnt up off sizz?'" She divulges no further information on that score, but quickly moves on to her overriding thesis for the song: love, and how those three little words have taken over all her thoughts. 
"You take me higher, higher than I've ever been, babe / Just come over, let's pour a drink, babe / I hope I ain't calling you too late," she croons. And therein lies our interest.
Is "Higher" a drunk dial, transcribed? A voicemail she didn't entirely remember leaving the next morning? It definitely seems that way. Here's Rihanna, drunk as a skunk after falling out with her sex friend, making a boozy, late-night declaration of her love in an attempt at mending fences and luring him over, but mostly just telling him how she feels.
She just wants to go back to the way things were, she says before wrapping things up, maybe having realized that this guy will be waking up to a two-minute message from her whiskey-pretty self the next day.
"But I'm drunk and still with a full ash tray / With a little bit too much to say," she sings, in a possible attempt at mitigating her effusive outburst. 
As effusive outbursts go, though, this one is goddamn adorable, mostly because of the swearing and the drug use baked in. It's sweet without being saccharine, which works well for Rihanna. Any man who woke up to a message like this from her would probably never silence his phone overnight again.
Unfortunately, though, if "Higher" is indeed the result of a drunk dial, it's not one Rihanna made: A young artist named Bibi Bourelly wrote the song, and presumably would have made the possible call behind it. 
Full lyrics for "Higher" are available on Genius.