'Anti' Deluxe Version Has 3 New Tracks: "Goodnight Gotham," "Pose," and "Sex With Me"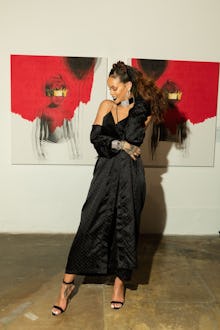 Christopher Polk/Getty Images
Rihanna's eighth studio album Anti was released in a midst of speculation and leaks, with the official release taking place Wednesday night exclusively on Jay Z's streaming service, Tidal. As fans relished in Anti's free download and streaming options, with one million downloads and nearly 14 million streams occurring in it's first fifteen hours, Rihanna's team was already planning the album's second release, with a deluxe version coming Friday.
Los Angeles Times reported Wednesday night a deluxe version of Anti would be released, featuring three additional songs: "Goodnight Gotham," "Pose" and "Sex With Me," which were all previously leaked over the course of Anti's release week.
Read more:
Anti was given extensive marketing with the Samsung-sponsored #ANTIdiaRy campaign. Whether Anti's deluxe, 16-track version will actually be released on Friday, and where, only Rihanna knows.