Fans Say Rihanna's "Love on the Brain" On 'Anti' Sounds Similar to Beyoncé's "Superpower"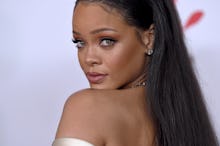 Axelle/Bauer-Griffin/Getty Images
While Rihanna was celebrating the release of her highly anticipated new album Anti, fans and media outlets worldwide were dissecting the album's 13 tracks piece by piece as it streamed entirely for free beginning Wednesday night on Tidal. Of course, some found similarities in a handful of songs, including "Love on the Brain."
"OMG MESS," one Twitter user penned while listening to Rihanna's "Love on the Brain" and Beyoncé's 2013 "Superpower" side-by-side. 
While "Love on the Brain" offers a similar beat underneath the classically vintage sounding ballad to "Superpower," it's one of many recent tracks being released by pop musicians with similar undertones from the likes of Etta James and other '60s soul singers. 
Moreover, it would seem unlikely for RiRi to rip a sample off Beyoncé's latest self-titled album, whose husband owns the music streaming service Anti was released on (which Rihanna also owns a 3% stake in). Still, the resemblance is admittedly uncanny. However, fans also noted "Close to You," the final song on Anti, sounds awfully similar to "Stay," Rihanna's ballad off Unapologetic. 
Read more:
Not only that, but fans were also noting Rihanna's "Love on the Brain" sounds similar to other hits as well:
Whether Rihanna knowingly reflected Beyoncé's ballad featuring Frank Ocean from 2013 or not will likely remain unknown as the Barbadian recording artist isn't quick to address rumors on social media.