Here Are the 7 Most Interesting Moments From Donald Trump's Counter GOP Debate Rally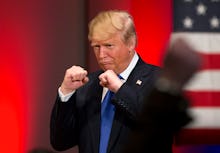 Jae C. Hong/AP
Meanwhile, on the Donald Trump show.
In protest of FOX's refusal to drop Megyn Kelly from Thursday's GOP debate, the party's frontrunner opted to host his own event at Drake University: a fundraiser for U.S. veterans. While some vets balked at the prospect of being "used as a political stunt," others got involved in the Trump fest. Here are the evening's quintessentially Trump moments. 
Read more:
The presidential candidate declares his blanket disdain for politicians, of which he is one. 
While reading through a very long list of very rich donors — who helped the frontrunner raise $6 million for an undisclosed number of veterans' groups, or maybe just the Donald J. Trump Foundation  — he stumbled upon his own name. "Donald Trump, another great builder in New York, now a politician," he read. "I can't stand this — a politician! I don't want to be called a politician. All talk, no action, I refuse to be called a politician."
Good thing he's gunning to become the nation's No. 1 politician.
Two presidential candidates hitched their wagons to the GOP's star. 
After spending some time condemning politicians for their chronic inaction, Trump quickly revised his position to exclude the two exceptions to that rule, Rick Santorum and Mike Huckabee, whom he then welcomed to the stage. And Huckabee, who declared his intention to attend Trump's event when his request to join the main stage debate was denied, expressed his gratitude to the frontrunner in a mini-speech that sounded eerily like an endorsement.
"I want to say how grateful I am to Donald Trump for inviting us here, because the easy thing for him to do is to simply ignore that anybody else cares about veterans, and he's not that kind of person," Huckabee said, thanking the frontrunner for the invitation. 
"It says something about him that he would bring us here for his own event, because bigger than even the election is the fact that we wouldn't have free elections in this country if it weren't for the people who stood between bullets, bombs and our freedom," he said. Sounds a little bit like someone wants to help make America great again. That running mate slot is still open. 
Trump declared his intention to be "greedy for America."
"I don't feel good about turning down money," Trump said, explaining how he's turned down millions in campaign donations. "Because my whole life I've been greedy, greedy, greedy. I grabbed all the money I could get, I'm so greedy. But now I wanna be greedy for the United States and grab all that money, I'm gonna be greedy for the United States."
It's not the first time he's said it, but it doesn't get less troubling with repetition. 
We hit peak America.
"So much America, John Wayne, so much America, I love it," said the second veteran speaker of the evening, before presenting the Donald with his 22 Kill ring, which the honoree accepted with a fist bump. The John Wayne in question was a Green Beret named John Wayne Walding who, has he twice intoned, was born on the 4th of July. "You just can't write this," he said. Indeed you can't.
Diamond and Silk ignited a quick protest.
Trump also brought onstage "two friends...who have become very famous and very rich" since becoming the "Stump for Trump" girls — YouTube stars Lynette "Diamond" Harding and Rochelle "Silk" Richardson. Their warm welcome from the candidate prompted jeers and chanting from protesters in the crowd. Trump's response? That getting everyone together in a room to talk would probably resolve everything.
Trump shared his ideal plans for his grandchild.
"Ivanka, it would be so great if you had your baby in Iowa," the candidate said from the stage, encouraging his daughter to stand. "It would be so great, I would definitely win."
What warm and loving sentiments from the future grandpa.
He exited to Adele's "Rolling in the Deep."
The lyrics "see how I leave with every piece of you / don't underestimate the things that I might do" took on new and sinister meaning.