Megyn Kelly Was the Real Winner of Fox's Republican Debate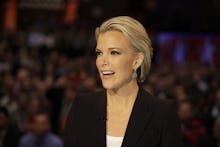 Chris Carlson/AP
Fox News anchor Megyn Kelly moderated Thursday night's debate as trailing Republican candidates took on no-show frontrunner Donald Trump — and boy did she put on quite the show. Twitter was lit on fire surrounding Kelly's performance, pointing out everything from the journalist's incredible hair day, to her fearlessly calling out several candidates on their hypocritical statements to the media.
"It was the childishly written and taunting PR statement by Fox that made me not do the debate," Trump tweeted Wednesday as to why he decided to forgo the latest Republican debate. "More so than lightweight reporter, @MegynKelly." The real-estate billionaire took on Kelly after the last Fox News GOP debate of the season, sparking a vicious dialogue between him and Fox. 
Kelly took a short vacation from her nightly news desk immediately following the debate where she and Trump clashed, with Thursday marking her unofficial return to the presidential race. She came out swinging, bringing the receipts out when multiple candidates denied statements made in the press throughout their political careers.
Twitter went wild when Kelly took on Cruz, Rubio and Bush for flip-flopping on issues like immigration, and whether undocumented immigrants should be provided a pathway to citizenship under certain circumstances:
In the first question of the night, Kelly asked Cruz about Trump, "the elephant not in the room." Thereafter, Trump dominated media coverage as he hosted an event for veterans in Iowa, and was the most searched Republican candidate of the night on Google. 
A minute by minute look at google search rates among several Republican presidential candidates showed Donald Trump was leading compared to Rubio, Bush, Texas Sen. Ted Cruz and Ohio Gov. John Kasich. Not only that, but each leading candidate made at least one reference to the business magnate, with several leading candidates using multiple opportunities to lambast the leading Republican candidate.  
New York Times Presidential campaign correspondent and CNN political analyst even said of the moderator's performance Thursday, "Megan Kelly is throwing fastballs tonight," a tweet posted by NYT read. Others were just as swayed by Kelly's night in the political limelight, including some who weren't originally fans of the anchor's work:
"Megyn Kelly is beautiful in that way where you're waiting for her to unhinge her jaw and swallow a mongoose," King of Queens actor Patton Oswalt tweeted during the debate, as Kelly sharpened her questioning toward candidates.
Whether Kelly was keeping a receipt from her interview with Trump in 2011, however, remains unclear: