'Don't Send Water': Michael Moore Laid Out the Painful Truths About Flint in This Letter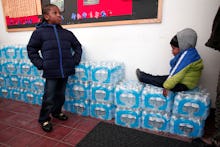 Don't send water. 
That was Oscar-winning filmmaker Michael Moore's blunt declaration to the world in an open letter published to his website Thursday regarding the Flint water crisis. The Bowling for Columbine director penned a blistering statement outlining the futility of bottled water as a solution, and instead offered a number of concrete solutions to stem the damage and bring comfort to the afflicted. 
"100,000 bottles of water is enough for just one bottle per person," said Moore after praising the generosity of rock band Pearl Jam and the NFL's Detroit Lions, each of which donated 100,000 bottles. But for the city of 102,000 it remains woefully insufficient. "You would have to send 200 bottles a day, per person, to cover what the average American (we are Americans in Flint) needs each day. That's 102,000 citizens times 200 bottles of water — which equals 20.4 million 16oz. bottles of water per day, every day, for the next year or two until this problem is fixed."
Moore, who hails from Flint – his 1989 documentary Roger & Me addressed the devastation caused to the Flint community after General Motors shut down its local plants, leaving 30,000 out of work – explained that bottled water or not, the damage is already done. With Flint residents having consumed the contaminated water since April 2014, many of the effects of lead poisoning and other toxins are irreversible. (Medical professionals suspect a link between the water and the outbreak of Legionnaire's disease, which has already killed ten.)
"You cannot reverse the irreversible brain damage that has been inflicted upon every single child in Flint. The damage is permanent," he said. "There is no medicine you can send, no doctor or scientist who has any way to undo the harm done to thousands of babies, toddlers and children (not to mention their parents). They are ruined for life, and someone needs to tell you the truth about that."
Moore laid out five points, among them retribution for those he blames for the problem and a combination of state and federal responses. He called for the removal and potential prosecution of Republican Gov. Rick Snyder, who has come under withering criticism for his response to the crisis, and insisted that while Michigan should pay for the fallout, the recovery should be managed by the federal government and FEMA. Moore also said that Flint residents who wanted to leave should be relocated and that those who wanted to stay should be provided clean water from Lake Huron by the federal government. 
The problem was a long time in the making. For Flint residents, it all started when, in a cost-cutting move, Flint rerouted its water supply from Detroit to that of the Flint River, exposing residents to water contaminated by the city's corrosive lead pipes. In fact, the water was so toxic, a local auto plant stopped using it, saying it damaged their equipment.
For more than a year, residents were told they had nothing to fear from the brown water coming out of their taps, even as warning signs multiplied and state workers in Flint decided to eschew the tap for bottled in their offices. The entire fiasco could have been avoided by adding an anti-corrosive agent to the water, per federal law. It would have cost $100 a day, according to CNN. 
For Moore, the open letter is the latest in a long drum beat for Flint and against Snyder. Moore also visited his hometown earlier this month to agitate from the ground and call for Synder's removal. 
"This is not a mistake," said Moore, according to the Detroit Free Press. "Ten people have been killed here because of a political decision. They did this. They knew." Moore has started a petition calling on Snyder to be prosecuted which to date has received nearly half-a-million signatures.