This Is the 'New York Times' Front Page Photo Pakistan Didn't Want People to See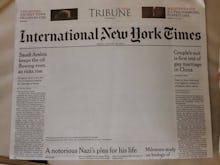 They say a picture's worth a thousand words. But, in the case of Pakistan's International New York Times' front page on Friday, it would seem a blank space is worth even more.
The publication decided to omit the front page photograph of two gay men kissing for a story on a pioneering same-sex marriage lawsuit in China.
Pakistani critics of the censorship — echoed by others around the world — were quick to respond on social media. Many criticized the move as yet another attack on the already stifled freedom of expression and press. And some saw the decision as part of a larger effort to suppress human rights. 
"I don't think a censored edition of an international newspaper should exist in the first place — if they have such an issue with some of the content, don't bother printing the rest of it either," one 28-year-old Pakistani woman, who wished to remain anonymous out of concerns she might be targeted, told Mic.
"They seem to do this often. It's not really the New York Times without that front page photo, is it?" she queried. 
However, as evidenced by the decision to censor the picture in the first place, some Pakistanis believed removing the image was the right decision. 
"Well, I agree. I surely do," Farhan Khan Virk, a millennial Muslim social and political activist in Pakistan, told Mic. "There are certain rules in different parts of the world which we don't agree to but we respect. What the world needs to do now is understand that Pakistan is a not secular country. We are governed by a legal framework that adheres to Islamic law. This is the democracy of the people of Pakistan — they chose an Islamic constitution and the world needs to respect that."
"Even if there was a man and woman kissing on the front page they would not have allowed it," Virk added. "Mostly Pakistani people are socially conservative. They are not extremists, they just don't want their children to see such images."
The problem arises, opponents of this view argue, when censorship extends beyond images relating to sexuality. And this is not the first time pages of major newspapers have been left blank, for a host of reasons extending far beyond the expression of sexual identity. 
On Jan. 2, the International New York Times' front and second page were left with large blank spaces after printers decided to remove an article on the barbarous murders and attacks on secular bloggers in Bangladesh, who defend human rights through their writing. 
While India separates Bangladesh from Pakistan by more than 1,000 miles, the two were at one time a fractured country, until 1971, then respectively termed East and West Pakistan. They are both Islamic nations and both, in recent years, have endured a rise in religious fundamentalism, which is in part why stories sympathetic to atheist secular bloggers have been suppressed in Pakistan.
The sociopolitical volatility — and associated insecurity — rocking Pakistan has quelled pluralism in myriad ways, such that media sidesteps more than just the sensitive subject of gay rights. 
"We are peace-loving," Virk concluded on the matter of Friday's front page. "We are not fanatics but we have a few values and some cultural differences and a way of living which need to be respected. There are things we don't like about America, but it doesn't stop us from respecting the country."