Basement 'Promise Everything': Track List, Streaming and Download Options for New Album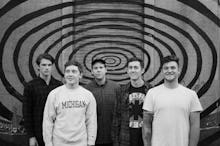 Facebook
After a two-year hiatus, English rock band Basement dropped its third EP Promise Everything Friday, available to stream on Spotify and Apple Music and download on iTunes. "It's less Warped Tour and more KROQ Weenie Roast: the depressive offspring of Mineral and Jimmy Eat World," Pitchfork's Zoe Camp wrote in a review of the band's new album, arguing that the standout songs are "still not enough to give them the gravitas of a great band."
Fans, however, disagreed. "Best work!" one fan wrote on Twitter. "Fucking adore it!" 
Read more:
"Promise Everything is finally on Spotify and now I will die happy," another fan wrote. "Thank you."
Where to buy Promise Everything: The album has been streaming on old-fashioned Pandora all week, giving fans a chance to listen before the official release. A special edition vinyl is available for $22.50 at Hot Topic as of Friday and a clear, splatter vinyl for $36.99 was already sold out on FYE.
Promise Everything track list: Here's the track list for Basement's new album: 
Basement is set to head out on tour in February starting at the Marble Factory in Bristol, United Kingdom on Feb. 7 and capping off in Perth, Australia May 31, making several stops in the United States along the way in cities including New York, Philadelphia, Baltimore, Boston and several more. Tickets are available on the band's site. 
On Jan. 14, the band released a music video for the album's "Aquasun."