Sia's 'This Is Acting': Lyrics, Track List and Download Options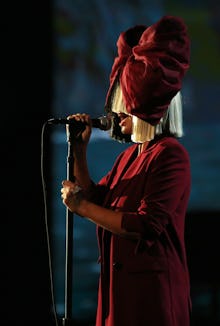 Christopher Polk/Getty Images
Hitmaker and wig aficionado Sia Furler's seventh album titled This Is Acting dropped on Friday as a follow-up to her five Grammy-nominated 1000 Forms of Fear LP, according to Vulture. The singer-songwriter is the mind behind many pop hits, and her album has ended up as a curated collection of those songs rejected by other artists. The 12-song album is available from iTunes or for streaming over Spotify. 
"I'm calling it This Is Acting because they are songs I was writing for other people, so I didn't go in thinking 'this is something I would say,'" Sia told NME last February. "It's more like play-acting. It's fun." Each song has a distinct survivalist theme, backed by empowering beats and strong builds, as if defending their reject status. 
"She remains a vocal powerhouse, capable of injecting vitality into even the most formulaic numbers," Pitchfork wrote.
Read more:
Sia first teased fans by dropping the song "Reaper" earlier this month. Although Kanye West slightly helped her with the catchy tune, it was originally written for Rihanna and her latest Anti album. The sixth song off the album "Cheap Thrills" was also meant for RiRi, Sia told Rolling Stone in December.
British singer Adele, whose own recently released album 25 destroyed charts, is another artist who rejected a tune from Sia, Rolling Stone reported in November. 
This Is Acting lyrics: "I found solace in the strangest place/ Way in the back of my mind/ I saw my life in a stranger's face/ And it was mine," Sia sings on "Alive." Sia told RTV Slovenija that "Alive" is actually about Adele's life, according to Billboard. Sia debuted that song and also "Bird Set Free" on Saturday Night Live in November, according to Rolling Stone. 
The one track off of This Is Acting that was meant for Sia herself was the pump-up song "One Million Bullets," which she called her "baby" to Rolling Stone. 
About one week before the album's release, Sia released another track off of This Is Acting, called "Unstoppable." In the song, Sia sings "I put my armor on, show you how strong how I am/ I put my armor on, I'll show you that I am," according to Genius. 
This Is Acting track list: Below is the track list for This Is Acting: 
1. "Bird Set Free"