Nickelodeon (Yes, That Nickelodeon) Is Helping Usher in the Hyperloop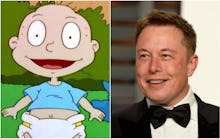 As SpaceX kicks off the first round competition of its Hyperloop pod contest, the cable channel that brought you SpongeBob Squarepants is contemplating how it can get involved.
More than 100 teams will file into Texas A&M University on Saturday for SpaceX's Hyperloop pod design competition. The winners of the contest's first round stand to gain anywhere from $20,000 to $150,000 towards building an operational model of their design for the SpaceX competition this summer. 
What is the Hyperloop? The Hyperloop is a mode of transit that eschews rail in favor of a depressurized tube capable of shooting a cylindrical pod 700 miles per hour to a given destination. SpaceX CEO Elon Musk popularized the concept in 2013, when he suggested that it would be more cost-effective to build a Hyperloop than a high-speed railway between Los Angeles and San Francisco. Furthermore, he said, a Hyperloop would be a faster way to travel.  
Since then, two Hyperloop companies have popped up and begun building test tracks for their potential Hyperloop systems. The SpaceX-run competition is aimed at fueling innovation around Hyperloop pods. 
Nickelodeon's interest: So far, SpaceX has partnered with Hyperloop Technologies Inc. on the competition, but Nickelodeon is hoping to throw its money in the ring soon too. The kids cable channel may sponsor a team or teams in the competition, according to the Verge. Unsurprisingly, Nickelodeon is specifically interested in funding high school students. The cable channel is reportedly offering teams $20,000 to build a functional version of the the pod. 
Building operational pods will be costly for all the finalists, and high school students have a lot less financial opportunity than teams that may have government, university and even venture capital. Even with Nickelodeon's money, high school teams will likely have to seek further funding and maybe even partnerships with other teams. 
One of the teams Nickelodeon is currently considering is Hyperlift, a team captained by Andrew Awad. The group plans on building a pod that is one-third the size of their design for the final competition this summer.  
Though it's not a tech company, Nickelodeon has an interest in attaching its name to major innovative technologies; especially technologies that youth culture is paying a lot of attention to.
But by funding young Hyperloop teams the company is not only aligning itself with some of the most cutting-edge technology out there, it's also promoting science, technology, engineering and mathematics. Sponsorship dollars will come out of Nickelodeon's charity budget. 
The SpaceX Competition will culminate this summer at SpaceX's Hyperloop test track, where teams will demonstrate their projects in front of a panel of SpaceX engineers, Tesla engineers, and professors.