Chicago Police Officer Is Suing Family of Quintonio LeGrier, the Unarmed Teen He Killed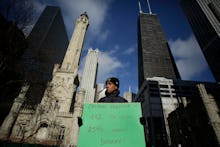 If you thought it was crazy when that lady spilled hot coffee on herself then sued McDonald's because she got burned, you should probably sit down for this one. A Chicago police officer who killed two people the day after Christmas is suing the family of one of his victims for causing him "emotional distress," according to Fusion.
Officer Robert Rialmo — who has been on the force for three years — responded to a series of domestic disturbance calls the morning of Dec. 26 at the home of Antonio and Quintonio LeGrier, who are father and son. Quintonio LeGrier, 19, had called the police three times saying someone was threatening his life. After ignoring the first two calls because Quintonio LeGrier would not give more details, dispatchers sent Rialmo on a "well-being check," the Chicago Tribune reported.
It did not go well. When Rialmo arrived at the home, Quintonio LeGrier allegedly came outside with a baseball bat. Police said the teen had been threatening his father, who also called the police that morning. Regardless, Rialmo shot the teen six times — twice in the back — then shot the LeGriers' 55-year-old neighbor, Bettie Jones, in the chest by "accident" when she came to her door to see what was happening. 
Both Jones and Quintonio LeGrier died on the scene.
Quintonio LeGrier's and Jones' families have since filed wrongful death lawsuits against the city of Chicago. Now, Rialmo is suing the LeGrier family in return, according to his attorney, Joel Brodsky. "[Quintonio LeGrier] came after my client with a baseball bat trying to kill him," Brodsky told Fusion on Thursday. "As a result of that, an innocent person was killed, and my client is very broken up about that." Brodsky cites "emotional distress and assault" as the reasons Rialmo is suing.
The teen's mother, Janet Cooksey, has since responded to the announcement, speaking to Fox 32 in Chicago on Thursday. "You took my best friend and my only son, and you say you gonna sue?" she said. "I had a promising honor student who always talked about all the great things he was going to do and he [the officer] talks about his stress? Where does the disrespect stop?"
Add this to the growing list of public relations disasters the Chicago Police Department is facing right now. Ever since Mayor Rahm Emanuel released footage of the October 2014 shooting death of 17-year-old Laquan McDonald, the city has been rocked by protests and calls for his resignation. The CPD has long been criticized as a hotbed for racism and misconduct, and the U.S. Department of Justice has been called in to investigate the department's internal practices.
Mic was unable to find an example of a successful "emotional distress" lawsuit filed by a police officer against the family of someone he or she killed.