Screen Actors Guild Awards 2016: Start Time, Channel, Presenters, Preview and How to Watch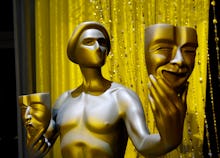 Kevork Djansezian/Getty Images
Awards season is in full swing, and the 2016 Screen Actors Guild Awards are just around the corner. The 22nd annual SAG Awards will air live on TNT and TBS on Saturday, Jan. 30 at 8 p.m. Eastern. 
The awards show, according to the Screen Actors Guild's official website, "celebrates the outstanding motion pictures and television performances from the previous calendar year" and is unique in that winners are "selected entirely by performers' peers in SAG-AFTRA."
Read more:
This year's SAG nominees for best film include Beasts of No Nation and Straight Outta Compton, neither of which received Oscar nominations. Nominees in the acting categories include Bryan Cranston, Johnny Depp, Cate Blanchett, Sarah Silverman and Idris Elba.
This year, comedian Carol Burnett will receive SAG's Life Achievement Award, the ceremony's self-proclaimed "highest tribute," which will be presented to her by Amy Poehler and Tina Fey. Other presenters for the general awards will include Mark Ruffalo, Susan Sarandon and Kristen Wiig, reports E!.
The awards show will air on both TBS and TNT at 8 p.m. Eastern, with red carpet coverage preceding the ceremony, beginning at 6 p.m. Eastern on both networks.