Rapper Jon Connor Takes a Stand for His City In "Fresh Water for Flint"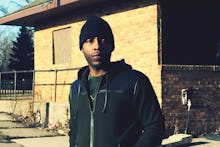 Flint, Michigan needs a voice. The city remains in a state of emergency following revelations that their city's water is contaminated with dangerously high lead levels. Residents have been drinking this water for nearly two years, since officials switched the city's water source from Lake Huron to the Flint River in a temporary cost-cutting measure. Thousands are now being tested for lead poisoning, some of those individuals are a part of rapper Jon Connor's own family.
Connor, a 30-year-old rapper signed to Dr. Dre's Aftermath label, grew up in Flint as Jon Kevin Freeman, living there until just before the water crisis broke. Yet the emergency has brought him back to his hometown — and back to music. 
Fans haven't heard an full-length project from the rapper since 2014. But Freeman has now broken that silence at this vital moment. Released Thursday, his latest song "Fresh Water for Flint" gives voice to all of the anguish and frustration his city has bottled up for so long.
Source: Soundcloud
Freeman opens the track with a quote from Michael Moore, another Flint native who has been adamant about trying to get us to call this water crisis for what it is: a political decision that deliberately put the lives of the city's majority black citizenry at risk.
"When they knew the truth that this water was poison," Moore says on the track's intro. "They chose to keep it quiet. They knew these people did not have the political power to do anything about it."
Onto this scene steps Freeman to help provide the platform the people of Flint so desperately need.
"The song is basically about the situation going on that nobody sees," Freeman said during an interview with XXL. "I lived in Flint up until two, three years ago, so being in California and seeing the way it's being portrayed on the news, seeing the deterioration of my city, its all that frustration and emotion. I feel like I'm the voice of Flint, so I'm just trying to verbalize how all the natives feel."
It serves a different function than what he sees as the masses of celebrities competing with one another to try to see who can donate the most, or give for the purest reason. "For you, this is a topic on Twitter," Freeman spits. "For me, listen, this where my momma is/ It's like an experiment on us to see if we break/ While they see where the bottom is."
He winds through several of the issues plaguing his city from way before the water crisis broke: poverty, high incarceration rates, low graduation rates. "Flint needed help before the water crisis," Freeman told the Huffington Post. "This is level 10 of the problem. With the automotive industry leaving, that was the first thing. Going to work in the auto industry was like a kid in Flint going to the NBA. When that went away, the feeling of hopelessness seeped in. People felt lost. They didn't know what to look forward to. The morale went way down."
Hopefully, this song will help bring a little bit of that hope back. The country must listen to Flint — and Connor is giving it the voice it needs.