This App Lets You Order On-Demand Botox, Right to Your Couch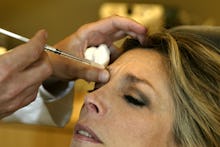 With just a few taps on your phone, you can order food. You can order a massage. You can order a car to come pick you up. Now, with just a few more taps, you can get Botox. 
A new app, Boomer, wants to bring Botox to your door, at your convenience. Sound terrifying? Perhaps, since it involves a stranger coming to your house with a bunch of needles. 
But according to the app's founder, New York City-based dermatologist Valerie Goldburt, the idea is about pure logistics. It came to her on one of her 60-mile-long drives to the office, where thousands of clients would visit her regularly. 
"I had a eureka moment: I realized that if I'm traveling to see my patients, they're traveling to see me, too, so we were all spending time trying to get somewhere," Goldburt told Allure. "So it was a whole lot of driving and waiting, and I just thought that there had to be a better way. This was around the time that Uber was becoming more and more popular, so I started to think about how to bring minimally invasive procedures to patients."
Those two words — "minimally invasive" — are important. It's unlikely we'll be getting liposuction or breast implants on our living room couches anytime soon, but Botox is a lower-risk (though still not 100% safe) procedure that doesn't need to be done in a fluorescent office. 
"Botox is not a technically 'sterile' procedure that takes place in a negative pressure, dust free, operating room," Dr. Snehal Amin, a New York-based dermatologist, told Mic. "It is considered a 'clean' procedure where the skin is cleansed and the instruments are sterile but the patient and doctor are not covered with sterile gowns. The dermatologist doing home Botox has to ensure the cleanliness of the procedure."
That said, it's safe so long as the person holding the needle is reliable. 
"There are some challenges," said Amin. "Positioning of the patient and lighting is very important to doing Botox; the dermatologist has to be extra-experienced to do a proper procedure."
For that reason, dermatologist Dr. Kenneth Mark told Allure, "the injector's skill level; knowledge of how, what, and where to inject; and ability to make proper clinical judgments is extremely important."
Dr. Goldburt told Allure that all the doctors on Boomer are board-certified dermatologists, which means they've had years of training.
For what it's worth, Botox can be an anxiety-inducing (or at least nerve-rattling) procedure, meaning a calming, homey environment does seem nice. That's partly why on-demand apps like Glamsquad, Priv and Bella — which let you order a stylist for a blowout, updo, manicure and more directly to your apartment — have been cropping up. 
That, and people be lazy. 
h/t Allure