"Sex With Me" Lyrics and Why Rihanna's 'Anti' Song Is Our New Favorite Hedonist Anthem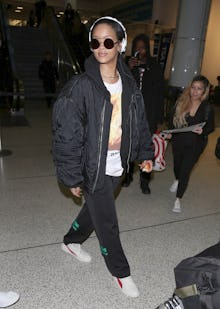 JMA/STAR MAX/IPx/AP
On Friday, the day after the initial release of Rihanna's eighth LP Anti on Tidal, a second release occurred. The new deluxe version, which is available on iTunes as well, also featured three new songs: "Goodnight Gotham," "Pose" and "Sex With Me." The new final song of the now 16-track album is "Sex With Me," and is a hedonistic but also girl power-inducing bass-heavy track that will easily fit in as a 2016 party staple. 
"Sex With Me" is similar to "Needed Me," as Rihanna emphasizes not only her independence from and lack of commitment to her current suitor but also her confidence in herself, making it another empowering girl tune. "Sex with me, so amazing," is the backbone lyric to the song, according to the lyrics from MusicPlayOn. She finishes off  the song by singing, "This is the best there is." 
In the song, Rihanna and her lover take a pleasure-seeking joyride, which includes drugs, shots and jacuzzis. "Vodka and water, and a lemon/ And a few other things I can not mention," she sings in the beginning of the song. 
The song is transparently about Rihanna's prowess at sexual seduction, as she sings, "Sex with me is amazing, with her it'll feel alright" and "And it's always wet, a bitch never ever had to use lip gloss on it/ I'mma need you deeper than six, not a coffin." 
Read more:
In one of the verses, Rihanna alludes to not even needing another person to enjoy her evening: "The sex doesn't get any better, make it long, let it be all night/ I know, I know, I make it hard to let go/ Tonight, all night, I'mma roll/ Even if I'm alone." 
Fans who listened to the bonus track immediately fell in love it, with some praising its good-times-only lyrics and others calling it "beyond amazing." 
In the first 15 hours of Anti's first release, the album was downloaded about one million times and had almost 14 million streams over Tidal.