Rihanna "Pose" Lyrics: The Meaning Behind 'Anti' Deluxe Track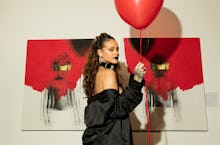 Christopher Polk/Getty Images
Rihanna finally dropped her long-awaited eighth studio album, Anti, this week, and on Friday RiRi officially released the deluxe version of the album, which included three additional tracks — "Goodnight Gotham," "Sex With Me" and "Pose." 
"Pose" is more lyrically in-line with swaggering Rihanna diss-track-hits like her March single "Bitch Better Have My Money." Over a bass-heavy beat (and what sounds like the iPhone text sending noise?) Rihanna takes down her haters with lyrics like, "And I ain't never liked a broke bitch," "All my haters so-so broke, pipe down," and "All you lame ass bitches is a no go."
Read More:
The lyrics build Rihanna up as much as they tear down the naysayers, with plenty of references to her money like "Gettin' dough, so rich" and a chorus of "So-oh-oh rich / Fired up, loaded." And the tone is generally playful, especially when Riri sings a drawn out "Yass bitch, let me see you get it."
Anti represents a general shift away from some of Rihanna's earlier hallmarks, something the singer has discussed in interviews leading up to the album's release, telling MTV that she wanted to make songs that were "timeless" and "felt real, that felt soulful, that felt forever." But "Pose" isn't exactly a part of that shift, which is probably why it's a deluxe track.
Full lyrics for "Pose" are available from Genius.