Twitter's Trending #KanyeAnalPlaylist Is a Perfect Storm of Slut Shaming and Homophobia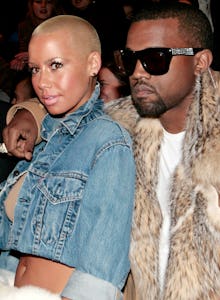 Twitter is not even near the end of the fallout from Kanye West, Wiz Khalifa and Amber Rose's three-way beef Wednesday. After absorbing West's increasingly absurd tweets, users have moved on to making fun of the his alleged enjoyment of butt play.
Rose presented the world with this revelation Wednesday about her former boyfriend after he used her as ammunition in his feud with Khalifa.
Rose matched West's slut shaming to a T, an odd choice for someone who's built a small legacy attempting to reduce the stigma of sexual promiscuity with her slutwalks and other public statements. West denied the allegations Friday morning. But that has only led to an absolute shit storm of buttplay jokes and puns, collected under the hashtag #KanyeAnalPlaylist. Twitter users have taken the slut shaming and latent homophobia of this fight to entirely new levels of awful.
Users have been flooding the hashtag with alternate names and album covers of classic rap and rock songs that would fit said playlist, such as Soundgarden's "Black Hole Sun" or Lil Wayne's "Trigger Finger" or Fetty Wap's "I'm Straight." The tweets make it seem as if West should be ashamed for being associated with any sexual practices outside the narrow realm of the traditional penis-enters-woman heterosexuality.
Hip-hop has long been a hotbed of this kind of homophobia, with rappers using homosexual jokes to shame rivals on the regular. Nas, on his Jay Z diss track "Ether" — perhaps the most important diss track in hip-hop history — calls Jay and his record label: "Gay Z and Cock-a-Fella Records." The homophobia on DMX's 2003 Ja Rule diss record "Where the Hood At?" could not be more plain: "Last I heard, y'all niggas was havin sex, with the same sex/ I show no love, to homo thugs." 
Unsurprisingly, West has also been on the receiving end of these kinds of disses before. He's actually been one of the most outspoken rappers in attempting to purge rap of its homophobia. Just as his career was getting off the ground in 2005, he called on the genre to stop using the word "gay" as a replacement for "wack," as it promotes homophobia. 
The statements and his own queer fashion choices, such as rocking a leather skirt during a concert for Hurricane Sandy relief in 2012, have made him a target on Lord Jamar's 2013 "Lift Up Your Skirt," which called West "the pioneer of this queer shit."
Heterosexual men can experiment with nontraditional sexualities in 2016 and not be made to feel they've sabotaged their whole career. "Male ass play is nothing to be ashamed of, no matter your sexual orientation," as Mic's Nicolas DiDomizio wrote earlier this week. "The sooner straight guys admit this, the quicker they can graduate to bigger and better forms of anal pleasure that will save their wives and girlfriends (hi, Kim Kardashian West!) from getting their manicured nails dirty."
There are plenty of productive conversations to be had about homophobia and toxic masculinity in hip-hop. But they won't be taking place on Twitter any time soon — not until this #KanyeAnalPlaylist reaches its last song.