Netflix Movies February 2016: What's Coming and Going From Streaming This Month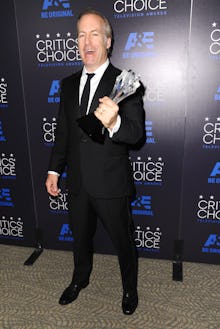 Richard Shotwell/AP
Netflix is adding and removing some viewing options for the month of February. Subscribers will have a variety of new comedy specials, movies and television shows to cuddle up to — solo or accompanied — for Valentine's Day, according to Business Insider.
Perhaps the biggest highlight of what's hitting Netflix is the Netflix original series Fuller House, which'll hopefully satisfy fans of the 1987 hit series Full House. The revival will follow D.J. Tanner, Kimmy Gibbler and Stephanie Tanner navigate adulthood and motherhood. Fuller House isn't the only Netflix original to be available in February. Broad City's Hannibal Buress' one-hour comedy special Hannibal Buress: Comedy Camisado will be ready to stream on Feb. 5. 
Other shows that'll be available on Netflix include the second part of Mad Men's seventh and last season and the first season of AMC's drama Better Call Saul, which stars Bob Odenkirk and is the spin-off of the hit series Breaking Bad. 
Read more:
A whole variety of movies are also hitting Netflix's small screen, including 1999's Cruel Intentions, the acclaimed hip-hop movie Dope, which stars rapper A$AP Rocky. Action movie fans will be able to catch Charlie's Angels and Sin City too.
Unfortunately, Netflix will be removing movies such as Blue Crush, The Hurt Locker and Rain Man in February. 
Below is a full listing of everything coming and going from Netflix in February, according to Business Insider:
Feb. 1
Better Call Saul: Season 1
Masha's Tales: Season 1
Pokémon: XY: Season 1
The Lizzie Borden Chronicles: Season 1
Collateral Damage
Sin City
Armageddon
Scooby-Doo
Scooby-Doo 2: Monsters Unleashed
Cruel Intentions
Teen Witch
Para Elisa
Charlie's Angels
Full Metal Jacket
Johnny English
A Picture of You
Star Trek V: The Final Frontier
Stardust
Talladega Nights: The Ballad of Ricky Bobby
The Little Engine That Could
A Faster Horse 
Game Face
Jennifer 8
Losing Isaiah
My Side of the Mountain
Tin Man: Search for the Emerald
The Year Dolly Parton Was My Mom
Pokémon the Movie: Diancie and the Cocoon of Destruction
Feb. 2
Land Before Time: XIV — Journey of the Brave
Feb. 3
I Love You Phillip Morris
Feb. 4
Love
Feb. 5
Hannibal Buress: Comedy Camisado
Care Bears & Cousins: Season 2
Turbo: F.A.S.T.: Season 3
Mad Men: Season 7, part 2
Feb. 6
Lila & Eve
Feb. 10
Dope
The Girl in the Book
Feb. 13
The Face of Love
Feb. 15 
Open Season
XXY
Feb. 16
Atonement 
Asthma
Feb. 17
The Returned: Season 2
Feb. 19
Cooked: Season 1 
Love: Season 1 
Feb. 22 
3rd World Cops 2
Feb. 23
Bare
Feb. 24
Marvel Super Hero AdventuresL Frost fight!
Feb. 27 
Finding Vivian Maier
Feb. 29
Ashes and Embers
Here's everything leaving Netflix in February, according to Newsday:
Feb. 1
Bad Santa
Benny & Joon
Big Fish
Blue Crush
Doctor Who
Rain Man
Ray
Terms of Endearment
The Firm
The Hurt Locker
The Naked Gun
The Terminator