Marco Rubio Has a Strategy to Win the Primary — But Could It Cost Him the General?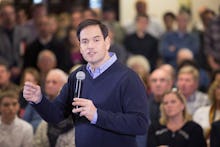 He's been hailed as "the Republican savior," the party's answer to President Barack Obama — a charismatic, transformational figure who can revive the GOP's national fortunes and deny the Democrats a third consecutive term in the White House. Democrats have taken note of his political prowess, expressing fear that his nomination could spell trouble for frontrunner Hillary Clinton.
As Sen. Marco Rubio of Florida looks to vault past Donald Trump and Ted Cruz to the top of the GOP's presidential field, he's pitching himself to the Republican faithful as their best shot at preventing a Clinton restoration.
"I believe, and I know that if Iowa helps make me the Republican nominee, I will defeat Hillary Clinton," Rubio proclaimed at the Republican presidential debate in Des Moines, Iowa, on Thursday night. "Hillary doesn't want to run against me, but I cannot wait to run against her. And I cannot wait to earn the opportunity to do it because she cannot be the president of the United States."
Rubio's strategy: Iowa is indeed crucial to Rubio's prospects of standing on the debate stage next to Clinton or Bernie Sanders this fall. The senator knows he won't win the caucuses there on Monday. Instead, he aims to finish a strong third behind Trump and Cruz, the first step what his campaign calls its "3-2-1" strategy.
If Rubio turns in a robust showing behind the top two finishers in Iowa, this theory goes, he'll be well-positioned to finish second to Trump in New Hampshire on Feb. 9, effectively finishing off establishment candidates Jeb Bush, John Kasich and Chris Christie. Then, his campaign hopes, Rubio will rocket to victory in the Feb. 20 South Carolina primary, setting up a two-man race between Rubio and Trump.
A lot has to go right for Rubio to parlay a third-place Iowa finish into winning the GOP nod, but recent polls suggest he may well get the impressive showing that he's counting on. In an NBC/Wall Street Journal/Marist survey released Thursday, Rubio nabbed 18% support to Trump's 32% and Cruz's 25%, while a Monmouth poll found Rubio at 16%, behind Trump at 30% and Cruz at 23%.
With Cruz on a downward slide in the Hawkeye State, Rubio's climb there has prompted whispers that he could even be runner-up to Trump, a development that would dramatically reshape the Republican race. Seeking to manage expectations, Rubio has moved aggressively to swat down such speculation. But Cruz clearly sees a threat: The New York Times reported Friday that he has redirected nearly all of his negative ads to target Rubio, not Trump.
How he got here: Given the dominance of white evangelicals in Iowa's Republican electorate, Rubio's gambit there has entailed a heavy emphasis on his religious faith and social conservatism.
The senator has blanked the Iowa airwaves with ads sounding cultural conservative themes. In a TV spot titled "Faith" unveiled earlier in January, Rubio declared that "the purpose of our life is to cooperate with God's plan. To those who much has been given much is expected, and we will be asked to account for that." 
In another ad, Rubio sounded a darker note, lamenting that the country has become increasingly unrecognizable to social conservatives. 
"A government incredibly out of touch, and millions with traditional values branded bigots and haters," Rubio said in the ad. He didn't explicitly mention same-sex marriage, but for Iowa's Christian conservatives, his meaning was clear.
At other times, Rubio has been even more forthright in opposing LGBT rights. In an interview with the Christian Broadcasting Network in November, he said that "God's rules" trumped the Supreme Court's June ruling for nationwide marriage equality, and the senator signed a pledge to protect the right of religious objectors to deny services to LGBT people.
"The packaging on the outside might differ [from other GOP candidates], but there's the same terrible product on the inside," Human Rights Campaign spokesman Brandon Lorenz told Mic. "The truth is that Marco Rubio has been one of the most vocal and ardent opponents of LGBT equality on the campaign trail: threatening to do away with marriage equality, appoint conservative Supreme Court justices, repeal President Obama's order protecting LGBT workers and staunchly opposing the most basic nondiscrimination protections."
On reproductive rights, which Democrats effectively wielded against the GOP in 2012, Rubio has also left himself open to Democratic attacks. Under questioning from Fox News' Megyn Kelly at the Aug. 6 GOP debate, Rubio denied ever supporting rape and incest exceptions to an abortion ban, which provided fodder for Clinton.
Denouncing Trump's fusillade of attacks on Kelly after that debate, Clinton added, "But what Marco Rubio said has as much of an impact in terms of where the Republican Party is today as anybody else on that stage, and it is deeply troubling."
Then there's Rubio's backtracking on his support for comprehensive immigration reform, which he co-sponsored in the Senate in 2013. Moving to prevent the Cuban-American senator from making any inroads with Latino voters, Clinton has hammered Rubio for adopting a harder line on immigration, charging that the senator is drifting toward "extremes and away from the rest of America."
Does it hurt him? The risk for Rubio is that in finding a way to win the GOP primaries, he'll render himself less formidable in the general election.
His socially conservative statements could considerably complicate the 44-year-old senator's effort to draw more young voters into the GOP, given that 70% of millennials back marriage equality, according to a July Pew Research Center survey, while 55% favor some degree of abortion rights, according to the Public Religion Research Institute. Moderate voters in crucial swing states, who may favor conservative economic prescriptions but lean to the left on social issues, could also balk at a Rubio candidacy.
But Geoffrey Skelley of the University of Virginia's Center for Politics told Mic that Rubio still offers the GOP key advantages that other potential nominees do not.
More than two decades Clinton's junior, Rubio would be able to draw a sharp generational contrast with Clinton, Skelley said, and even if millennials skew liberal on social issues, "it's hard to imagine Rubio losing the 18-to-29-year-old vote by a larger margin than [2012 GOP nominee Mitt] Romney did." Four years ago, Romney, then 65, won only 36% of the millennial vote to Obama's 60%.
What's more, Skelley said, Rubio would dial back the hardline rhetoric he's employed to curry favor in Iowa — and given the senator's reputation as a skillful rhetorician, Skelley thinks he stands a decent chance of reassuring more moderate voters that he's no Neanderthal.
Add signs of turbulence in the global economy, the potential for a major terror attack and the historical difficulty parties have had in hanging onto the White House after two terms, and there's ample reason to believe a generic right-of-center candidate like Rubio could become the 45th president.
"If Rubio walks [his social conservatism] back a little bit and the fundamentals are favoring Republicans," it will be hard for Clinton to win, Skelley told Mic. "Given his maneuvering on immigration, he'd probably be fully willing to walk some of this back. Clinton will attack him on it, but she has to be really worried about the big-picture stuff." 
But Democrats will have strong incentives to tar Rubio as an ultraconservative in the mold of Trump and Cruz. Political scientists Alan Abramowitz and Steven Webster of Emory University have documented the sharp rise in recent years of "negative partisanship" —  the tendency for voters to be as much opposed to the other party as in favor of their own, given the widening cultural gulf between the two parties. The more Democratic voters see Rubio as an extreme conservative, the more likely they'll be motivated to turn out and vote against him, the thinking goes.
Still, Trump's and Cruz's often bombastic rhetoric and divisive images may well reshape voter perceptions of just what constitutes an unacceptably conservative candidate. Next to those two, a moderate tone could be enough to convince voters that Rubio is a different kind of Republican — which is why few are watching his moves with more nervous anticipation than the Democrats are.