Real Couples at the "Porn Oscars" Talk About What Porn Has Taught Them About Intimacy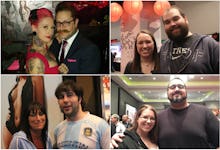 When you think of potential romantic date spots for couples, a porn convention in Las Vegas probably doesn't make the top of the list. But nothing could be further from the truth for the myriad couples who attended this year's Adult Video News Awards and Adult Entertainment Expo (NSFW), a four-day affair held earlier this month at the Hard Rock Hotel. 
Mixed in with the crowd of lingerie-clad cam models and, yes, countless men of all ages — most of whom were flying solo save for the stacks of pornographic photos they clutched, hoping to get autographs — were scores of couples wandering the floor. Many held hands as they introduced themselves to their favorite performers, while others took turns checking out the newest technologies to sweep the adult world. It seemed that, surrounded by a celebration of sexuality, most of the couples had never felt closer. 
Mic caught up with five couples at the AVNs to talk about what they've learned from porn about their relationships and their sex lives. Here's what they had to say.
Katelyn, 24, and Andy, 27
Mic: How'd y'all end up at the convention?
Katelyn: We've always been extremely open with sexuality. I used to work at Spencer's gifts, so being involved in selling vibrators and stuff like that was something we've always been really open with discussing.
Andy: We've always watched porn together.
Do you think porn has made you more open to trying new things sexually? How does coming to the convention with a partner affect that? 
A: Yeah. So, for example, we just tried to the violet wand [an electrical stimulation tool typically used in BDSM]. And it's one of those things we've always talked about getting, but it's like $150 to $200 to get one so we never committed. Now that we've tried it, we're definitely going to get one.
Do you think watching porn has made those conversations about trying new things easier?
A: Yeah, because we don't really have an issue going, "I want to try what they're doing." And then if it sucks, we're really open with each other to be like, "That was terrible. We're never going to do that again."
Has porn taught you to develop that openness, or is that more who you are and how you are?
A: Watching porn together made the conversation easier, but it didn't necessarily start the conversation. I was very much like, "Let's try this thing!" at the beginning and she would be hesitant, but then we'd see people do it in porn, and then we'd both be like, "Let's do that." I feel like that made it more a two-way street, as opposed to me saying, "Hey, let's try this."
Do you feel like you're aware of the differences between "real sex" and porn when you're watching it?
A: Yeah, I know I am ... just aware that they're fucking for a camera and a paycheck, and when we have sex it's more intimate. There are times when we just fuck. But a lot of the times, it's intimate.
K: It's not so much the looks or the aesthetic of it. There are certain things that look great on camera, that just don't do anything—
A: Yeah, that just don't translate at all.
"[I'm] aware that they're fucking for a camera and a paycheck, and when we have sex it's more intimate." 
Maribel, 46, and Jose, 48
Mic: What made you decide to come to the convention?
Jose: The girls.
Maribel: Him.
Is porn something that comes up in your relationship a lot or something you talk about frequently? Do you watch porn together?
J: We're fairly new to it. But the fantasies that I have, I want to experience them with her. 
Do you feel like talking about [sex and porn] has brought you closer? How?
J: Oh yeah, by fulfilling fantasies. Growing up, watching porn is like — you have a vision of how sex should be like, and you want a partner to experience it with you.
M: Yes, of course. Sex is a very important part of a relationship. So, keeping it exciting, keeping it moving, keeping it new and fresh is important. 
Kimberly, 50, and Benjamin, 29
Mic: What would you say porn has taught you about sex and about intimacy in your own relationship?
Kimberly: He kind of introduced me to porn about a year ago when I met him. Up until then, I was probably very lame.
You didn't watch porn?
K: No, no. But as you can see, he got me here to the porn convention.
How did you introduce porn into the relationship, Benjamin?
Benjamin: First with toys and then we'd start watching porn; it just spices it up.
What was that first conversation like, where you were like, "Hey, I want to watch porn," or, "I want to use toys"?
K: I think he didn't think I would be going for it, and I think I might've surprised him a little bit by playing into it more than he thought at first.
B: She liked it a lot. Now she's just totally open.
Do you feel like it has helped you be open generally or simply in the context of a relationship?
B: Both, right? Now she doesn't feel weird coming to something like this. If someone popped a porn on, she wouldn't be like, "Oh god, I've got to get out of the room!" Remember the sex toy party you went to? You were laughing when all the girls were heckling because they'd—
K: They'd never seen a dildo before! Yeah. I was like, "I can't believe I was like this."
B: It's made her more comfortable.
Jessie, 31, and Marcus
Jessie and her boyfriend, Marcus, weren't typical attendees: Jessie is Jessie Lee, a performer for the company Burning Angel, founded by her close friend Joanna Angel. Marcus, however, is what's known in the industry as a "civilian," someone who doesn't work in the industry. 
Mic: Do you feel like porn has helped you nail down a sense of intimacy?
Jessie: Yeah, I feel like before I was in porn I would just have a lot of no-strings-attached relationships, but the more I was involved in the industry, the more I actually wanted something that was more intimate, more personal — I actually wanted a boyfriend. Before, when I first started porn, I didn't want a boyfriend. I was just DTF all the way. I want to fall in love and have a future with someone.
Marcus: Experience speaks volumes. I mean, I may not be in the industry, but I can guarantee you I've probably had more sex than she has.
What has that meant for your relationship?
J: Well, when I start dating a guy I hold out; I don't have sex right away. I waited like a month with Marcus? Maybe a little over a month? We actually were talking about sexual experiences, and he was talking about how many girls he's had sex with, and I was like, "Wow, that's really hot." So I had sex with him that night for the first time. Because that's what I like. I like a guy who's experienced. 
M:  If anything, experience feeds intimacy. I feel like, because of... what Jessie does [in porn] and the [sexual] experience I've had, it makes it that much easier to experience actual intimacy than to not know what it is.
Miranda, 30, and Thomas, 33
New parents Miranda and Thomas had never attended the adult expo before, despite having lived in Las Vegas for several years. When Thomas won tickets to the convention, he and Miranda decided to go together for the first time. 
Mic: How did you feel when you got the tickets? Did you think this was going to be weird?
Thomas: No, actually, I just thought, "Well, we'll go check it out." It'll probably be interesting to see. I've been [in Las Vegas] for so long and never checked this out. 
Miranda: He actually invited some of his guy friends and they refused to come.
T: They backed out. They thought it would be uncomfortable.
M: Probably the stigma of it. But I was like, "You know what? Let's go. I think it'll be fun."
Do you feel like you've learned anything being here?
M: There's no shame here, but I kind of love it.
T: I like how open everybody is. They're not closed off.
M: All walks of life are here. It hasn't been trashy. I think I had it set up in my mind that it was going to be trashy, but it's pretty clean and, understanding what it is, it's actually pretty interesting.
Do y'all talk about porn a lot?
T: We talk about it rarely, I guess. I think after this it'll probably open us up a little bit more.
M: Seeing different ideas of what people are into, it opens up more room for discussion of where we can go. When you've been together for so long — we've been together seven years — I guess you look for new things to spice things up. I think this will start a conversation.
Do you think that you would feel the same way if you hadn't come with a partner? Or even if you had come alone, if you didn't have a long-term committed partner, do you think it would leave you feeling the same way, with the same willingness to try new things?
M: I think so. But I think it's almost mentally different when you're with a partner, because you want to try something that you're both interested in, versus if you're by yourself maybe you're a little more letting your freak flag fly, that kind of thing. It's more — when you're in a relationship, it's, "What do we like here?" and, "What are we going to try together?"