'House of Cards' Season 5 Release Date Info, Rumors and Spoilers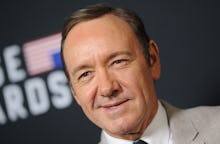 Axelle/Bauer-Griffin/Getty Images
Netflix's hit original political drama House of Cards has been renewed for a fifth season, scheduled to arrive on the streaming site sometime in 2017, Entertainment Weekly reports, but without creator and showrunner Beau Willimon. The news comes just before the release of the show's fourth season, scheduled hit Netflix on March 4.
"After five years and four seasons, it's time for me to move on to new endeavors," Willimon said in a statement to Variety on Thursday. "But I'm supremely proud of what we've built together, wish the show much continued success and leave it in the hands of a very capable team."
Read more:
Netflix has been teasing the arrival of the show's fourth season with a series of trailers and a fake campaign site for President Frank Underwood, played by Kevin Spacey, FU2016.com. When the most recent season left off, the conniving Underwood had manipulated and schemed his way into the White House and was plotting his upcoming campaign. 
Things were strained between Underwood and his wife, Claire, played by Robin Wright, who was growing increasingly resentful of the emphasis placed on her husband's career and success. 
The twists ahead for the distant fifth season won't be clear until the fourth plays out — if Underwood doesn't win the nomination, he'll have to climb his way up to the top all over again. Much of that will depend on the Underwood's marriage – Frank won't be able to win an election in the middle of divorce proceedings.
So far there's not much info available for what Season 5 of House of Cards has in store for its antihero, but there are likely plenty of dark turns ahead for Underwood as he struggles to maintain (or regain) his political power.