#KanyeAnalPlaylist Memes Are Taking Over After Amber Rose/Wiz Khalifa/Kanye West Feud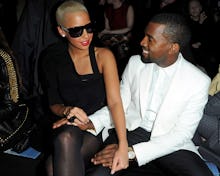 Pascal Le Segretain/Getty Images
On Friday, rapper Kanye West once again became the focus of many Twitter users, thanks to the trending hashtag #KanyeAnalPlaylist. The hashtag comes in the wake of Wednesday's Twitter feud between fellow rapper Wiz Khalifa and West over the new name of West's album Waves. Khalifa accused West of stealing the phrase from incarcerated rapper Max B. and the two dealt out some blows below the belt.
Yeezy, who's known for going a little overboard with his 140-character posts, took a jab at the mother of Wiz Khalifa's child and his own ex-lover Amber Rose. In now-deleted tweets, West called her a stripper and said, "I know you mad every time you look at your child that this girl got you for 18 years." Amber Rose fired back with what many felt was a homophobic tweet aimed at West and with the hashtag #FingersInTheBootyAssBitch. The exchange resulted in a flurry of West-targeted memes and song titles riding the mockery of Amber Rose's diss and further making male anal play taboo.
Read more:
The two had dated from 2008 to 2010, with West's My Beautiful Dark Twisted Fantasy being a result of the break-up, according to the Daily Beast. But back in February, West had insulted Rose over a radio interview, saying that he had to take "30 showers" to cleanse himself of her when he started to date Kim Kardashian. In 2012, Amber Rose had called out Kardashian as being a "home wrecker," she said in an interview with RapFix Live, according to MTV. 
On Thursday night, West disputed her claim by tweeting, "Exes can be mad but jus know I never let them play with my ass... I don't do that... I stay away from that area all together."
Despite West's disagreement to Rose's comment, Twitter still reacted strongly, with some disappointed in the popularity and offensiveness of the trending hashtag.
But most took it as an opportunity to make puns with song titles, such as Sum 41's "In Too Deep" and Trey Songz's "Bottoms Up." Some even used West's own songs, like "Gold Digger" to make fun of him. Many memes of Amber Rose and West also arose.