Who Is Aaron Tveit? Here's the Story of the Internet's New 'Grease Live' Crush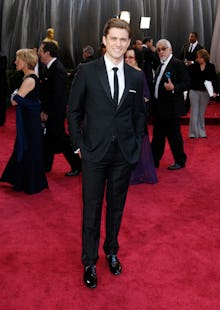 As the country watches Grease Live, they'll watch star names like Vanessa Hudgens and Carly Rae Jepsen sing the classic Jim Jacobs and Warren Casey songs. They'll be transported back to their first time watching the film.
They'll also be saying: Who is that gorgeous hunk of talent playing Danny Zuko?
That actor is Aaron Tveit, a theater veteran slowly making his way into the worlds of television in film. In just a couple of years, he's managed to build up an impressive résumé that earned him the lead role in Grease Live. To help satiate newly developed Tveit crushes, here's a quick tour through his previous work.
Theater
Tveit has toured with shows like Rent (as Steve) and Hairspray (as congenial star Link Larkin) and joined shows like Wicked (as love interest Fiyero). His two signature parts, however, are those that he created and crafted on Broadway.
The first is as Gabe in Next to Normal. As the son of Diana Goodman, a woman living with bipolar disorder, Tveit had to play a character at the heart of a very dark revelation. Next to Normal is an intense show — which makes his other signature role, Catch Me If You Can, look all the lighter.
In Catch Me If You Can, an adaptation of the 2002 Steven Spielberg film, he plays young con man Frank Abagnale Jr. Tveit gets the most vocally challenging song in the show: the show-closing "Goodbye," easily a highlight of not just the musical, but of his career.
Film
Tveit has several projects in the works or on the way, but his most recognizable film role remains, appropriately enough, a musical one. In Les Miserables, he played Enjolras, fiery fighter counterpart to tranquil lover Marius (Eddie Redmayne). In his part of the story, he tries to motivate his friend to care more about the impending French revolution than about his lover Cosette (Amanda Seyfried).
Enjolras isn't a lead role by any measure, even in such an evenly split ensemble. But his feisty demeanor makes him a standout, as does his part in the song "Red and Black."
Television
Like many a theater actor before him, Tveit has often turned to television to supplant time and income between plays and musicals. Just look at the guest stars on Law and Order and The Good Wife to find Broadway thespians galore. Tveit did indeed do a one-off role on the latter of those shows, but he also did a longer stint as the absurdly named Tripp Van Der Bilt on Gossip Girl.
Most recently, however, Tveit was a lead on USA's cop show Graceland. On the show, co-headlined by fellow theater actor Daniel Sunjata, Tveit played a rookie FBI agent working with a veteran and living with other agents in a Southern California home. The show was canceled after three years, a bummer for Tveit fans — but we're betting after Sunday night's performance, he'll have earned scores more.