SAG 2016 Red Carpet Livestream: Watch Screen Actors Guild Awards Pre-Show Online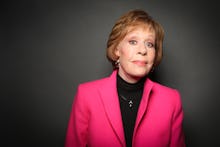 Rich Fury/AP
The annual Screen Actors Guild awards will commence Saturday on TNT and TBS at 8 p.m. EST. The main event won't be available to stream online, but the red carpet pre-show, which last year involved stunning celebrity looks including Lupita Nyong'o's bold long-sleeve gown, Jennifer Aniston's sultry gold dress and interviews with stars of the year's most critically-acclaimed films and series. 
More than two hours of live coverage of the SAG awards red carpet will kick off at 5:50 p.m. EST on the event's site. A video of last year's red carpet event is available to watch on the site as well. 
Read more:
Comedic duo Tina Fey and Amy Poehler will present a lifetime achievement award to actress Carol Burnett, USA Today reported. "Burnett is known for her comedic and dramatic roles on television, film and Broadway, most notably The Carol Burnett Show," it says in the announcement that Burnett will receive the night's "highest tribute."
The SAG awards differ from other television and film award shows in that it honors only the actors, including awards for entire casts and ensemble casts as well. This year, the casts of Modern Family, Orange is the New Black, Key & Peel, Big Bang Theory, Veep and Transparent are nominated for Outstanding Ensemble Cast Performance in a Comedy Series. 
The full list of nominees for each category is available here.