Super Tuesday 2016: Date, States and Voting Predictions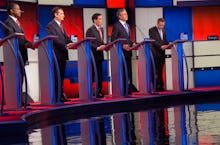 JIM WATSON/Getty Images
Super Tuesday, the day of election season when the most states hold primary elections, will land on March 1 in 2016. Voters from 15 states and territories will gather on Super Tuesday to strongly influence how many delegates each presidential candidate will get at their party's national convention, a strong indicator of who will cinch the nomination. 
States and territories participating in Super Tuesday: Alabama, Alaska, American Samoa, Arkansas, Colorado, Georgia, Massachusetts, Minnesota, North Dakota, Oklahoma, Tennessee, Texas, Vermont, Virginia and Wyoming. A full list of which are open and closed elections is available here.
Read more:
Predictions: Political polls in many of the Super Tuesday states haven't been released yet, but as the Iowa caucus is the first and therefore maybe most influential of the caucuses, the latest Iowa polls may be some indication as to which candidates will have the most success Super Tuesday.
The latest Quinnipiac Republican Iowa poll released Tuesday shows GOP frontrunner Donald Trump just topping Texas Sen. Ted Cruz 31% to 29%. Florida Sen. Marco Rubio placed third at 13%. 
The latest Quinnipiac Democrat Iowa poll shows Vermont Sen. Bernie Sanders beating former Secretary of State Hillary Clinton  49% to 45%, an emerging trend in recent political polls that's made Sanders a viable threat to Clinton after she remained the definite frontrunner for months. 
Sanders' recent rally in Minnesota, one of the participating states, had an overwhelming turnout of more than 14,000 people, the Washington Post reported. The state's voters tend towards liberal. 
The latest national polls, however, show Clinton still leading Sanders by almost 15% while Trump leads the GOP candidates nationally by 15.6%.