The 11 Best Songs About New York City That Capture What It Means to Live in the Big Apple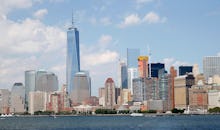 Dominik Bindl/Getty Images
Ahh, New York City, the Big Apple, the city that never sleeps ... NYC has inspired almost as many nicknames as it has songs. From Frank Sinatra to Jay-Z to Taylor Swift, countless artists, whether New York City natives or transplants, have released songs about the city. Here are just a few of our favorites.
1. "Empire State of Mind," Jay-Z feat. Alicia Keys
This is a great song to listen to if you've just moved to New York and the city makes you feel "brand new" instead of making you feel like you're exhausted and tired and some gross mystery water just dripped on your face while you were walking out of the subway.
2. "New York State of Mind," Billy Joel
OK, sure, Billy Joel may be a cheeseball sometimes but he writes super catchy music. This is a great song for when you've been away from NYC for a little while and you're feeling homesick for the city.
2. "No Sleep Till Brooklyn," The Beastie Boys
There is no more perfect song for when you're waiting for the L in Manhattan at 3 a.m. and all you want to do is get home to Brooklyn and finally go to bed.
3. "New York, I Love You But You're Bringing Me Down," LCD Soundsystem
There's this thing that can happen with people and New York City, where you can love NYC with all your heart and simultaneously hate it for ruining your life. This song is for all the New Yorkers (and New Yorkers at heart) who are in a complicated relationship with the city.
4. "Walk on the Wild Side," Lou Reed
New York City has long been seen as a place for people who don't fit in anywhere else to find a community, and this song is about exactly that. But what seems wild from the outside is usually just business as usual in New York.
5. "The Message," Grandmaster Flash & The Furious Five
Hearing Grandmaster Flash lay out the struggles of life in New York City in the early '80s (rats, roaches, junkies) sure makes it seem like a different place than wherever Taylor Swift was when she wrote "Welcome to New York."
6. "Rockaway Beach," Ramones
When the Ramones sing "It's not hard / Not far to reach," they're totally lying, because Rockaway Beach is all the way at the end of the A line. But it does have the perfect name for a rock song, and it's pretty at night in the summer.
7. "New York, New York," On The Town
Theater on Broadway is one of the best things New York City has to offer, so what better to include on this list than a song from a musical about New York? Warning: The chorus of this song will be stuck in your head forever.
8. "Brooklyn," Mos Def
This song is all about true Brooklyn pride, and it's a reminder to today's New Yorkers that neighborhoods like Bushwick, Fort Greene and Bed Stuy have long, rich histories that predate the recent arrival of hipsters and artisanal cheeses.
9. "The Girl From New York City," The Beach Boys
This one isn't exactly about New York — it's about New Yorkers, and what happens when they go other places, like California. The answer is that everyone is totally obsessed with them and they're awesome because they're from New York City.
10. "The Rising," Bruce Springsteen
Springsteen wrote this song as a reaction to September 11, and it's hopeful, honest and sincere — everything New Yorkers aren't supposed to be. But if you really love New York City, you probably can't help getting a little emotional when you hear this one.
11. "Theme from New York, New York," Frank Sinatra
Start spreading the news, this might be the quintessential New York song. It's for everyone who knows that if you can make it there, you can make it anywhere.