The Best Road Trip Playlist for the Escapist in You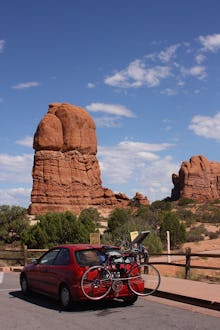 Nina Raingold/Getty Images
Cars zooming down a stretching road are the embodiment of an escapist's ideal getaway. Jack Kerouac did it in On The Road, as did Mark Twain when he was penning Roughing It and Life on the Mississippi in the 1800s, according to Smithsonian Magazine. That's only the tip of the road trip alum's iceberg. 
Arguably, the best part of going on a road trip isn't the wind in your hair, your friends at your side or the exciting destination that awaits for you at the end of the map. Instead, it's the music that accompanies all of it. After all, what kind of painful torture technique is an extremely long drive in total silence?
Read more:
A successful road trip playlist takes careful curation. Not only should the songs be upbeat to keep the driver happily awake, but they should also should span a range of eras, be well-known, catchy and easy to sing along to. Cheesy is acceptable as well. 
From carefree hits such as "Young Blood" from the Naked and Famous to the classic go-tos like "I'm Gonna Be (500 Miles)" by The Proclaimers, here are the jams that'll make both time and the road (safely) fly by: